Because Montana contains vast tracks of public lands, the U.S. Forest Service played an important role in the state in the twentieth century. Known for its rough-and-tumble rangers and daring smokejumpers, the Forest Service is seemingly synonymous with the rugged style of masculinity associated with Montana and the American West. Even Smokey Bear, with his bulky muscles and stern face, seems like a man's man.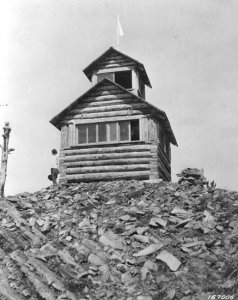 Nevertheless, women have worked for the Forest Service since its creation in 1905. Throughout the twentieth century, women's labor was indispensable to the Forest Service, even as women consistently struggled against the agency's masculine reputation and the belief that they were unsuited for forestry work. It was not until the 1970s and 1980s—when they moved into traditionally masculine fields like firefighting and law enforcement—that women were able to gain positions of leadership in the agency.
In the early twentieth century, women were generally limited to clerical positions within the Forest Service, and in some cases even these "feminine" jobs were off limits to them. Albert Cousins, an early forestry professional, recalled that some foresters preferred to hire men, even for office work, "the idea being that a woman clerk would not handle the 'rough' work required in the administration of a forest, such as assembling and shipping fire tools, rustling fire fighters, etc. Such work properly was for a 'two fisted' ranger."
Despite this attitude, women long served as clerical "typewriters"; in the 1910s female Forest Service employees also began to hold technical drawing and data collection and analysis positions. However, the agency rarely allowed women to work in the field. One important exception was female fire lookouts, although these women were supposed to call a male smoke chaser to fight any fires they spotted.
Rangers' wives were a second important exception. Wives performed clerical work, cooked and cleaned for forestry staff and firefighters, and sometimes even fought fires themselves, all without compensation. Their work was a boon for ranger districts that had neither sufficient staff nor funds.
One such wife was Harriet Evelth of Monarch, Montana. According to historian James G. Lewis, she "purportedly left her three small children behind during the Big Blowup of 1910 and rode twenty miles on horseback from Monarch to Neihart, Montana, to take charge of a hundred men fighting a fire, not knowing whether the fire would jump the ravine and claim her home and family." This daring act earned Evelth the nickname "The Paul Revere of the Belts."
During World War II, labor shortages forced the Forest Service to allow more women into fieldwork. Women worked as fire patrols, cooks on the fireline, and truck drivers. They even logged and scaled lumber. But this shift was only temporary. After the war, returning GIs replaced women in these jobs, and the Forest Service resumed its practice of discouraging women from applying for fieldwork positions. A 1950s employment leaflet explained: "The field work of the Forest Service is strictly a man's job because of the arduous nature of the work, and the work environment." Encouraged by the growing women's rights movement of the 1960s, however, women began to challenge this position.
On July 6, 1971, an article in the New York Times announced, "Women have invaded another traditionally all-male stronghold—the domain of the professional forest-fire fighter." The Times noted that, at the behest of twenty-one-year-old Janet Mitchell (whom the article described as a "petite 115-pounder from Boston, Mass."), the Forest Service had formed an all-female fire crew in Lolo, Montana. The fire control officer who trained the new crew described the women as "green, but their enthusiasm and determination will help them develop into a tough unit." He also issued this warning to the "girls": "[Y]ou might as well accept it, there is going to be some tough woods-boss who doesn't think much of the idea of women's lib."
While some men probably resented women's presence on the fireline, the concept of all-female crews spread from Missoula to other regions of the Forest Service, and by the late 1970s women were being integrated into male fire crews. Still, women encountered suspicion and resistance to integration. Kim Maynard, who started as a firefighter and worked as a smokejumper in Missoula from 1982 to 1984, recalled the atmosphere of anxiety when she and Wendy Kamm arrived for smokejumper training: "[T]hey had a sexual harassment class . . . and they discussed, 'Well, fellas, things are changing. Now when you have to take a pee, you have to go behind the bushes. . . . And you have to watch out for sexual harassment because you could easily get sued. . . .' And people were just scared of us. Nobody would talk to us. . . . They thought, any second, that we were going to sue them."
The transition of women into male-dominated field positions in the 1970s and 1980s was essential for those who wanted a career in forestry. Clerical and office-based jobs had not served as stepping-stones to positions of leadership in the agency. However, as women moved within the Forest Service into traditionally masculine fields like law enforcement and firefighting, they gained experience that allowed them to move up the ranks. In 2007, Abigail Kimbell—then in charge of the Forest Service's Northern Region headquartered in Missoula—was elevated to the position of chief forester, the first woman to hold the office.  AH
War often provided an opportunity for women to seek employment opportunities traditionally reserved for me. Read Like Father, like Daughter: Women Who Worked for the Northern Pacific Railroad and Montana's "Rosies": Female Smelter Workers during World War II to learn more.
Sources
Fisher, Carla Renee. "You're Not Getting Rid of Me: Cultivating Space for Women in the U.S. Forest Service, 1950-1990." Ph.D. diss., Purdue University, 2010.
Lewis, James G. The Forest Service and the Greatest Good: A Centennial History. Durham, N.C.: Forest History Society, 2005.
Mayell, Hillary. "Women Smokejumpers: Fighting Fires, Stereotypes." National Geographic News, August 8, 2003, p. 1. Accessed January 7, 2014.
Maynard, Kim. Interview by Susan Green. October 31, 1984. OH ­­­­­133-70, Smokejumpers Oral History Project, K. Ross Toole Archives, Maureen and Mike Mansfield Library, University of Montana, Missoula.
"Now the Girls Are on the Fire Line." New York Times, July 6, 1971, p. 38.
Rothwell, Tara. "Women Celebrate 20 Years of Smokejumping." Smokejumper Magazine, April 2002. . Accessed January 7, 2014.
Williams, Gerald W. "Women in the Forest Service: Early History." Accessed January 7, 2014.
"Women's History and the Forest Service." Accessed January 7, 2014.