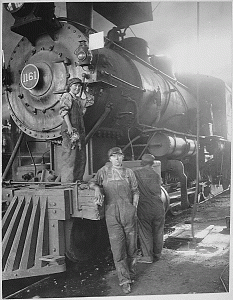 When the Northern Pacific Railroad established its Central Division maintenance facility at Livingston, Montana, the town became a magnet for men seeking jobs on operational and maintenance crews. At the start of the twentieth century, one-sixth of the town's population worked for the railroad. Most of these workers were recent immigrants to the United States. Later, during the two world wars, many of their daughters also found good-paying work with Northern Pacific, one of the few employers in the state that paid women equally to men.
One of the first women employees was Natalina Indendi, who had immigrated to the United States from Italy when she was five years old, in about 1905. Her father had emigrated three years earlier, but the rest of the family originally were denied passage because her brother was blind in one eye. When they were finally permitted to leave Italy, they went straight from the emigration office to the boat without a single piece of luggage. "We were supposed to meet Dad in Chicago. . . . [But] the day we landed in New York he took off for Montana, because they were building up a crew [to extend a railway line from Livingston] to Wilsall." Natalina's mother found a job in a garment factory in Chicago. As soon as he could, her father sent money, and the family moved to Livingston.
The Indendis were one of many Italian families who immigrated to Livingston to work for the railroad. Natalina's father and the fathers of her friends built extension lines for the Northern Pacific and worked as yardmen and mechanics in the roundhouse "shops." By 1907, the roundhouse's capacity had tripled, and sixteen trains a day passed through Livingston. At that time, the Northern Pacific employed over eight hundred people, all of whom were men.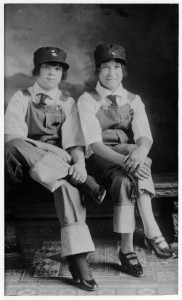 When many of those men joined the army during World War I, the Northern Pacific hired women as office workers. Additionally, two dozen women took jobs as engine wipers and yard workers. Natalina Indendi became one of the "dirty dozen" who wiped down the engines, greased the wheels, and operated the turntables in the roundhouses. She quit in 1921 when she married Marco Parisi, a fellow Italian immigrant and Northern Pacific employee. One of women who had worked alongside Natalina, however, remained at the roundhouse for thirty years—the only woman of that generation to work that long in a labor position for the Northern Pacific.
Her name was Bertha Grimm Gonder, and she was a widow with nine children. Her family had immigrated to the United States from Switzerland in 1894, when Bertha was a child. She married in 1901 and settled in Kentucky, where her husband, Fred Gonder, died of tuberculosis in 1914. Friends and relatives offered to take some of the children, but Bertha Gonder was determined to keep her family together. She spent their savings on train tickets to Montana, and in 1918 she became one of the first female employees of the Northern Pacific Railroad, working as an engine wiper, turntable operator, and hostler helper aiding in the care of the engines.
Unlike most of the "dirty dozen" who relinquished their railroad jobs at the war's end, Gonder continued working in the roundhouse. Her unique position as a woman railroad laborer and single mother raising nine children earned Bertha Gonder a mystique that intrigued the press. In 1938, LIFE magazine claimed that Gonder, who was not quite five feet tall, was the only woman engine wiper anywhere in the United States. Over the next decade newspapers around the country ran stories about the cheerful, rosy-cheeked woman who did the "man-sized job" of "currying an iron horse . . . eight hours a day, seven days a week."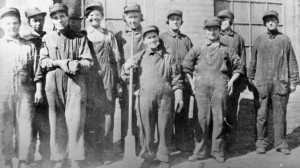 During that time, Gonder earned enough to support her children and to buy a house. When they were teenagers, her sons followed in her footsteps, and in time one became an assistant foreman. Throughout her thirty years of service, Bertha Gonder was never promoted, but the pay was good and the men treated her as an equal. She retired with a good pension in 1948.
By then, several young, unmarried women were working for the railroad, having taken advantage of the labor shortages created by World War II. Girls who had grown up in Livingston's railroad families applied for jobs as messengers, secretaries, telegraphers, comptometer operators, and accountants. Rose Toscano, an Italian immigrant whose father worked for the railroad, began working for the Northern Pacific in June 1943, first as a messenger, then in the "machine room" operating the comptometer. Her father was pleased that she landed a good job.  Rose married in 1948, but only quit her job after having two sets of twins in two years. She later recalled that, in addition to offering "the best pay in town" for women, the Northern Pacific also provided maternity leave—something other employers did not offer.
High wages—guaranteed through union contracts to be equal to those of their male counterparts—made railroad work especially attractive to Livingston women. Some women who left their jobs to start families returned to railroad work in the yard and as clerical workers after their children were in school. By the 1960s, diesel engines, which needed less maintenance, had replaced steam engines, passenger travel was declining, and the railroad began tearing out its turntables. The Livingston shops closed in 1986, ending an era of railroad work that had supported generations of Livingston families. LKF
Sources
"Livingston Woman Rounding Out 22 Years Wiping Greasy Engines." Big Timber Pioneer, March 28, 1940, 2.
McGee, Bernice Lavold. Interviewed by Julia Katherine Keffer, February 6, 1997. OH 376-013, K. Ross Toole Archives, Maureen and Mike Mansfield Library, University of Montana, Missoula.
Parisi, Natalina Indendi. Unidentified interviewer, 1981. [Copy of original from Park County Historical Society.] OH 376-015, K. Ross Toole Archives, Maureen and Mike Mansfield Library, University of Montana, Missoula.
Toscano, Rose F. Interviewed by Julia Katherine Keffer, May 29, 1997. OH 376-009, K. Ross Toole Archives, Maureen and Mike Mansfield Library, University of Montana, Missoula.
"Woman Employed by Rail Roundhouses since the World War." Syracuse Herald American. August 4, 1940, 9.