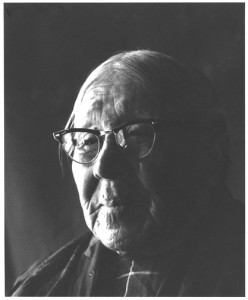 A custom among many tribes, the giveaway—and the love and gratitude it represents—strengthens social bonds through reciprocal acts of generosity. Similarly, the tribal tradition of adoption to replace lost family members helps heal broken hearts and builds family ties. These culturally prescribed acts of generosity and love were central to the life of Belle Highwalking, a Northern Cheyenne woman.
Belle's mother died giving birth to her in 1892. The Cheyennes pitied the motherless child and considered Belle poor, for a mother provided material and emotional sustenance. Belle's grandmother took the infant to nursing mothers to be fed until Belle was able to drink milk from a can.
As a young girl, Belle traveled on horseback with her grandmother to visit relatives on the Crow Reservation, where she recalled first experiencing a giveaway: "They gave us many fine gifts. . . .  They sang songs for the different Cheyennes and gave out the gifts—shawls, quilts and dress goods. Some received horses. . . . When I arrived home, an old man, Braided Locks, gave me a beautiful shawl. He said, 'My granddaughter helped me drive the horses very well and I will give her a shawl that I received as a gift.'"
By the time Belle was a young woman, her grandmother was very frail. Belle wanted to marry so that she could provide for the old woman, but Belle's father, a tribal policeman, advised his daughter to stay single as long as she could. Even so, on a snowy night in 1912, the twenty-year-old girl eloped with her sweetheart from a New Year's dance. A few days later, tribal police took the couple to court to be punished for living together in the recently outlawed Cheyenne way of marriage. Promising to become married legally, Belle and Floyd Highwalking were released.
"I remember what a hard life I had when I was young. But when I chose my husband, I must have used my head," Belle told a friend. On the couple's wedding day, Floyd's grandmother announced, "We brought my daughter-in-law home. Do not speak harsh to her or ever scold her. Treat her well and take care of her," while Floyd's father reminded his family to treat Belle kindly because she "didn't have any mother." Floyd's mother brought her daughter-in-law her meals and cut up Belle's meat for her in an expression of motherly tenderness. Floyd's family later held a feast and a giveaway on Belle's behalf, giving clothing, household goods, and horses to her family and to friends who had given the couple wedding presents.
Belle and her husband worked as hired hands—haying, picking beets, hauling freight by wagon between the Northern Cheyenne and Crow Indian Agencies—and raised their own produce and horses. Over the years, they sponsored numerous giveaways on behalf of their children, Floyd's sisters, and their grandchildren. Such giveaways were a customary part of important family events such as weddings, births, funerals, and adoptions. Giveaways did not depend on how well-off a person or a family was; rather, Cheyennes gave to express love and gratitude for others.
Belle had inherited horses—considered an especially fine gift—from her mother.  She gave away colts when her brother got married. When her first child, George, was born, Belle and George's grandmothers gave horses to those people who had blessed them with gifts. Belle and Floyd also gave away a horse to have baby George's ear pierced, a custom that showed their love for the child. "This is how my son first gave away. . . . This is when I learned to love the giveaways, and I still like to give," Belle said.
In the1920s, Belle and Floyd traveled to Oklahoma, where the Southern Cheyennes treated them to a Christmas feast. "After everyone finished," Belle said, "the other people left, but we were asked to stay. This woman who asked us also invited all her relatives to come meet us. When they came, they hugged me and cried. I guess that this woman's daughter had just died and I looked like her. . . . Then they gave-away to me and this is how I was adopted by these Oklahoma people."
Years later, Belle met a North Dakota man who reminded her of a grown son she had lost. She gave him and his wife many fine gifts. The younger couple reciprocated with money, blankets, quilts, and a war bonnet. In this way, Belle and Floyd Highwalking adopted the man and his wife as their own son and daughter.
A year after Floyd died, Belle and her sons held a feast and giveaway for his friends and the people who had come to his funeral. Belle gave away seven tables of gifts, saying, "This is the way you show your respect for the person who has died. . . . It comforts you to give away."
By 1970, when Belle began recording her life's story, the Northern Cheyenne tribe had become one of the most impoverished populations in the United States. The government had slaughtered their once-great horse herds to force the Indians to lease their lands for cash. Cultural fragmentation, unemployment, and a high rate of alcoholism had taken heavy tolls on Cheyenne society. Yet Belle continued to give away in honor of her relatives and to show her love for them. "In the past, I owned horses, but now I don't. . . . All I have to give my relatives anymore are prayers for good health. That's the thing I like [to give] now."  LKF
Sources
Highwalking, Belle. "Belle Highwalking: The Narrative of a Northern Cheyenne Woman." Edited by Katherine M. Weist. Translated by Helen Hiwalker. Billings: Montana Council for Indian Education, 1979.