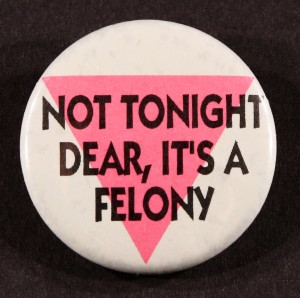 In 1993, Linda Gryczan told her neighbors she was suing the state of Montana to overturn a law that criminalized gay sex. Though she "was afraid that someone might burn down her house," her neighbors—and activists across the state—rallied to her cause. But those who believed homosexuality should remain a crime also mobilized. Women took leading roles on both sides of the decades-long fight over Montana's deviate sexual misconduct law.
Passed in 1973, Statute 45-5-505 of the Montana Code Annotated defined "deviate sexual relations" as "sexual contact or sexual intercourse between two persons of the same sex or any form of sexual intercourse with an animal." Though rarely enforced, the law carried a fine of up to fifty thousand dollars, as well as ten years in prison, and made same-sex consensual intimacy a felony.
At the urging of gay and lesbian rights advocates, Montana state representative Vivian Brooke (D-Missoula) introduced bills in both 1991 and 1993 to strike the law from the books. The bill failed in both sessions. Many legislators agreed with Rep. Tom Lee, who argued that "[God] has declared homosexual activity to be wrong, and I don't think we serve the other people of this state by contradicting him." Others, noting that the law was not enforced, wished to avoid political fallout over what they saw as a symbolic vote.
Frustrated by their lack of progress in the legislature, repeal advocates decided to take their fight to the courts. On December 6, 1993, six lesbian and gay Montanans sued the state: lead plaintiff Linda Gryczan of Clancy was joined by William Summers of Missoula, Doyle Forister of Billings, Stacey Haugland of Bozeman, Donn Farward of Kalispell, and Anne Gehr of Helena. Attorney Rosemary Daszkiewicz of the Seattle-based, feminist Northwest Women's Law Center represented the six activists. She argued that the law led to discriminatory practices in housing and employment, violated the privacy of individuals, and insulted the fundamental dignity of Montana citizens.
The state's attorneys took a two-pronged approach to defending the law. First, they maintained that, since the law had never been enforced, none of the plaintiffs had ever suffered direct injury from it, and they therefore lacked "standing" to challenge the statute. However, District Judge Jeffrey Sherlock rejected the State's request for a dismissal, noting "the fact that the law has never been enforced does not mean it is immune to a court challenge." Secondly, while acknowledging that Montana's constitution guaranteed a right to privacy, the State argued that the right did "not immunize adult same-gender sexual conduct from state regulation."
To prove they had legal standing, the plaintiffs presented evidence of the discrimination they had experienced. They also showcased the social and emotional toll of living under Statute 45-5-505. Stacey Haugland testified, "Every time I've filled out a job application they would ask, 'Have you been convicted of a felony?' and I had to sit there and say, in my mind, well, not convicted." Anne Gehr, the mother of a young son, expressed her fear that Statute 45-5-505 could be used by social service agencies to remove children from their homes. Psychologists also confirmed that laws such as Statute 45-5-505 created a culture of fear. Dr. Janet Allison testified that "living in a state of knowing that you can be prosecuted anytime simply for being who you are is a terrifying experience."
The debate continued in the court of public opinion. Laurie Koutnik, executive director of the Christian Coalition of Montana, claimed that to repeal the act "would be to cast aside millennia of moral teaching." Arlette Randash, a spokesperson for the Eagle Forum, suggested that legalizing same-sex intimacy would encourage children to experiment with promiscuity and increase AIDS in young people.
On December 8, 1995, Judge Sherlock handed down his decision in favor of the plaintiffs. He issued an immediate injunction with his ruling, pointing out that "If, as has been suggested, the statute is an attempt to protect public morality, the statute is not doing a very good job since no one has ever enforced it."
The State appealed the case, but two years later, on July 2, 1997, the Montana Supreme Court unanimously upheld Judge Sherlock's ruling. In issuing its opinion, the Court explained that the Montana constitution guarantees "individual privacy" except where there is "a compelling state interest" and that the state had failed to show any such "compelling interest." Justice James Nelson said in summary: "Quite simply, consenting adults expect that neither the state nor their neighbors will be cohabitants in their bedrooms."
Repeal advocates were overjoyed. Diane Sands, Montana's first openly gay legislator, called the ruling "a glorious Fourth of July reaffirmation of the constitution." Plaintiff Donn Farward hoped the victory was the first step toward "attaining the rights that everyone else takes for granted." On the other hand, opponents feared that legalizing same-sex intimacy opened "the door to the entire homosexual agenda."
At first, both hopes and fears seemed overblown. In 2004, a majority of Montana voters, 67 percent, supported a constitutional amendment defining marriage as "between one man and one woman." Missoula and Helena did pass ordinances prohibiting discrimination on the basis of sexual orientation in 2010 and 2012, respectively, but Statute 45-05-505 remained on the law books—no longer enforceable but retaining symbolic power.
That changed in 2013, when the Republican-led Montana state legislature passed Senate Bill 107, removing the law the Montana Supreme Court had declared unconstitutional sixteen years earlier. As lesbian and gay rights advocates rejoiced in their victory, Gryczan's remarks from 1997 finally echoed true: "We are no longer called criminals for whom we love. We are at last legal citizens." – KB
Having trouble viewing the video? Try this link!
Sources
Constitution of the State of Montana.
"Gay-sex Decision." Independent Record [Helena], March 15, 1996.
"Gay-sex Law Struck Down." Independent Record [Helena], July 3, 1997.
Grygiel, Chris. "Suit Would Overturn Homosexual Law." Independent Record [Helena], December 7, 1993.
Gryczan v. State of Montana, Montana Supreme Court decision, July 2, 1997.
"High Court Strikes Ban on Gay Sex," Independent Record [Helena], June 27, 2003.
"Law That Made Gay Sex in Montana a Crime Repealed." Missoulian, April 19, 2013.
Legal Voice (previously the Northwest Women's Law Center).
Linda Gryczan, personal collection.
"Montana's Gay Sex Ban Overturned." Great Falls Tribune, July 3, 1997.
"Plaintiff Says Ruling Is Just the Beginning." Independent Record [Helena], July 6, 1997.
Selden, Ron. "Out in Montana: After a Winter of Fear and Defeat, Advocates Renew Their Fight for Same-sex Rights." Missoula Independent 12, no. 17 (May 31-June 7, 2001).