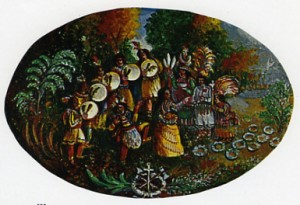 Among the indigenous peoples of Montana, being a warrior was not an exclusively male occupation. Women commonly dominated the realms of housekeeping, food preparation, and child rearing. They influenced leadership, articulated their political concerns, and exercised a great deal of control over economic, domestic, and intertribal matters. A few women, however, gave up their traditional domestic role altogether and became "career warriors."
People who knew these female warriors personally—tribal members, traders, missionaries, and military officers—provide details about their lives in oral histories, expedition journals, and drawings. The women's military skill and bravery caught non-Indians off guard since they were unaccustomed to women participating in combat. The women's male enemies were perhaps even more taken aback, sometimes fearing these women warriors possessed special, even supernatural abilities.
One especially fearless warrior was Kaúxuma Núpika, a Kootenai woman who was also a cultural intermediary and prophet. In 1808, young Kaúxuma Núpika married a Frenchman working for the explorer David Thompson. She was so rowdy that Thompson exiled her from his camp. She divorced her husband, claimed to have been changed into a man, and then took a succession of wives.
Dressing as a man, Kaúxuma Núpika traveled from tribe to tribe throughout the Northwest, predicting epidemics, the invasion by Europeans, and the destruction of tribal villages by a great force that would "bury them under the ground." In 1811, she promised to deliver a letter from Spokane House to Fort Estakatadene on the Fraser River. For reasons unknown, she and her wife went hundreds of miles out of their way, ending up at Port Astoria, Oregon, where she drew an accurate map of the inland territory between the coast range and the Rocky Mountains for David Stuart, Thompson's rival.
Upon her return, Kaúxuma Núpika took up arms for the Salish, who knew her as Ingace Onton, but also worked as an intermediary between tribes, as she spoke at least four indigenous languages. In a battle with the Blackfeet, she was stabbed several times in the chest, but, witnesses claimed, the wounds closed up almost immediately, leading her enemies to believe she had supernatural protection. In 1837, Kaúxuma Núpika saved a Salish band by tricking the Blackfeet, who greatly outnumbered their Salish enemies. The Blackfeet then ambushed Kaúxuma Núpika and, fearing she would not die otherwise, cut out her heart and chopped it into pieces. That same year a smallpox epidemic decimated tribes across the Northwest, perhaps as she had foreseen.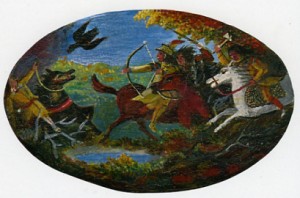 Kwilqs was a Šínms?ín, a Pend d'Oreille woman who led the life of a warrior rather than marrying. Her name meant "Red Shirt" in reference to a British uniform coat she wore. Among the Salish and Pend d'Oreille people, Kwilqs was known as a nurturing, brave, and fearless woman. She also excelled at riding and combat.
Jesuit missionaries Fathers Pierre De Smet and Nicholas Point, who came to the Northwest in 1841, described Kwilqs' military feats in their journals. Point witnessed Kwilqs in action when the Pend d'Oreilles encountered their Blackfeet enemies in 1842. By his account, "Her bravery surprised the warriors, who were humiliated and indignant because it was a woman who had led the charge. . . . The Blackfeet immediately shot four shots almost at point-blank range, yet not a single Pend d'Oreille went down."
De Smet described Kwilqs in a battle against the Crows in 1846, confidently gathering fallen arrows from the middle of a battle so as to rearm the Pend d'Oreille troops. He wrote, "The famous Kuilix . . . accompanied by a few braves and armed with an axe, gave chase to a whole squadron of Crows. When they got back to camp, she said to her companions, 'I thought those big talkers were men, but I was wrong. Truly, they are not worth pursuing.' " Kwilqs survived into old age, greatly respected for her military courage.
One of Kwilqs' contemporaries was the outstanding warrior, Woman Chief of the Crows. Born in 1806 into the White Clay (Gros Ventre) tribe, Woman Chief's childhood name was Pine Leaf. A Crow man kidnapped young Pine Leaf to replace his recently killed son and raised her to have a warrior's skills. In time she proved her military abilities; in her first battle, she killed two Blackfeet men and captured a large herd of horses. She continued to gain honors as a warrior and military strategist, earning the Crow name Bíawacheeitchish, Woman Chief.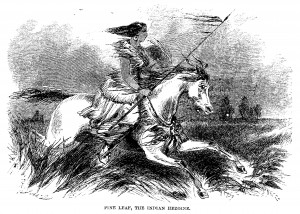 Upon meeting this famous warrior, an American trader wrote: "She looked neither savage nor warlike. . . . She sat with her hands in her lap, folded, as when one prays. She is about 45 years old; appears modest and good natured." Woman Chief took four wives and was considered a war chief for over twenty years. She was killed by White Clay warriors in 1854 while on a peace mission to her natal tribe.
Kaúxuma Núpika, Kwilqs, and Woman Chief are only three of the indigenous women warriors who raided and fought alongside male warriors of their tribes during an era of rapid change. In more recent times, American Indian women have readily joined the U.S. military, volunteering in every major campaign since World War II. LKF 
To read about another incredible female warrior, read A Young Mother at the Rosebud and Little Bighorn Battles.
Native women in Montana have occupied many types of leadership on and off the battlefield. Elouise Cobell championed land rights for native tribes. Dolly Cusker Akers was the first Native American to serve in the Montana legislature and the first woman to serve on the Fort Peck Tribal Executive Board. Lucille Otter combated political corruption by helping register local native voters. To learn more about these women, click on their names.
Sources
Barry, Neilson J. "Ko-Come-Ne Pe-Ca, The Letter Carrier." Washington Historical Quarterly, 20, no. 3 (July 1929): 201-203.
Beckwourth, James. The Life and Adventures of James P. Beckwourth. New York: Harper and Brothers, 1856.
Brown, Mark H. The Plainsmen of the Yellowstone: A History of the Yellowstone Basin. Lincoln: University of Nebraska Press, 1961.
"Confederated Salish and Kootenai Tribes." New World Encyclopedia, online. Accessed October 1, 2013.
Denig, Edward Thompson. Five Indian Tribes of the Upper Missouri. John C. Ewers, ed. Norman: University of Oklahoma Press, 1961.
"Gone-To-The-Spirits, A Kootenai Berdache." Native American Netroots. Accessed October 1, 2013.
Koster, John. "'The Other Magpie and the Woman Chief Were Crow Warriors of the 'Weaker Sex': Cheyenne and Lakota Women Also Took Up Arms." Wild West, June 2013: 24-26.
Roscoe, Will. Changing Ones: Third and Fourth Genders in Native North America. New York: St. Martin's Press, 1998.
Schaeffer, Claude E. "The Kutenai Female Berdache: Courier, Guide, Prophetess, and Warrior." The American Society for Ethnohistory 12, no. 3 (Summer 1965): 193-236.
Sperlin, O. B. "Two Kootenay Women Masquerading as Men? Or Were They One?" Washington Historical Quarterly 21, no. 2 (April 1930): 120-30.
"Women Leaders from the Buffalo Days." Little Big Horn College Library. Accessed October 2, 2012.