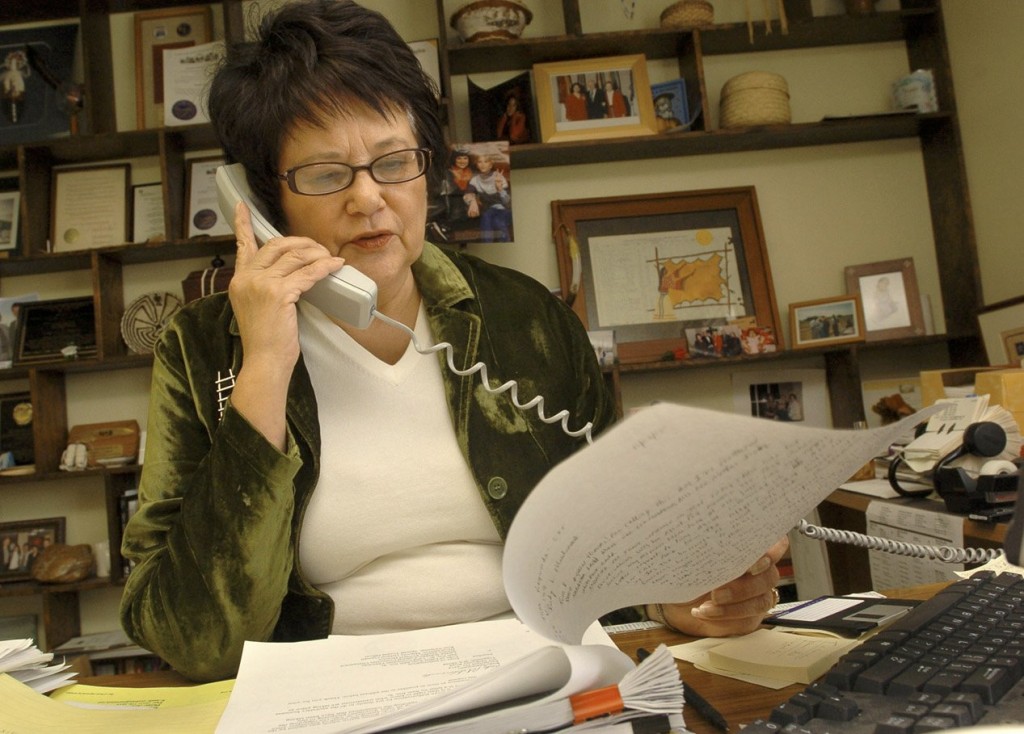 Telling a young Blackfeet woman that she was "not capable" of understanding basic accounting may have been the most ridiculous thing the Bureau of Indian Affairs (BIA) ever did. The woman was Elouise Pepion Cobell, treasurer for the Blackfeet tribe and founder of the first American Indian-owned national bank. She became the lead plaintiff in Cobell v. Salazar, successfully suing the Department of the Interior (DOI) and the BIA on behalf of nearly half a million American Indians for mismanagement of trust funds.
Elouise Pepion Cobell grew up in the 1950s in a home without electricity or indoor plumbing. Across the Blackfeet reservation, many families lived in similar circumstances, despite the existence of income-producing enterprises such as oil and gas extraction and ranching on land belonging to tribal members. Cobell wondered how such profitable development on the Indians' lands could fail to provide them with a significant income.
The problem had a long history. In 1887, Congress passed the General Allotment Act, which mandated that Indian reservations be divided into parcels (allotments) for individual, rather than collective, ownership. Government representatives then deemed that many allottees were "incompetent" to manage their own lands and financial affairs. The DOI held these Indians' lands in trust, often leasing the allotments for grazing or mineral extraction. Revenues from the leases and royalties were supposed to be put into Individual Indian Money accounts (IIMs) managed by the BIA and paid in regular installments to the individual landowners, thus providing them with a steady income.
As Cobell began to investigate the concerns of tribal members who received only paltry incomes—sometimes pennies a month—from the lease of their allotments, it became apparent that the system was broken. Although it leased millions of acres of productive, Indian-owned land, the DOI failed to keep adequate records of how much money was generated through those leases, or to document where that money actually went, or to ensure that the landowners were paid. When tribal members made inquiries about their IIM accounts, the BIA and DOI flatly refused to provide documentation. "We were treated like nobodies, even though it was our own money," Cobell told the Great Falls Tribune.
After several attempts to meet with the federal government, Cobell finally decided to take the matter to court. Washington, D.C, banking attorney Dennis Gingold agreed to take the difficult case, and in 1996, Cobell and four other plaintiffs filed a class-action suit, originally Cobell v. Babbitt, on behalf of half a million Indians against the BIA and DOI. The suit demanded a full accounting of all IIM accounts, the creation of a new accounting system for individual and tribal money held by the DOI, and the payment to individual Indians of the money—perhaps as much as $127 billion dollars—that was rightfully theirs.
The Justice Department, representing the BIA and Interior, fought back. They hired teams of lawyers from thirty-five of the most prestigious American law firms and spent over $30 million trying to hide their misdeeds. It quickly became apparent that the DOI had not kept accurate or sufficient records. In 1999, U.S. District Court Judge Royce Lamberth ruled in Cobell's favor and ordered a full accounting dating back to 1887. The Interior and Treasury departments failed to provide it, instead destroying hundreds of boxes containing tens of thousands of IIM account documents. Lamberth held Interior Secretary Bruce Babbitt—and then his successors, Gale Norton and Dirk Kempthorne—in contempt of court. In retaliation, the DOI had Lamberth removed from the case and froze all IIM accounts, blaming the Cobell lawsuit.
Cobell persisted, knowing she wasn't fighting just for the return of the Indians' money, but also to reform the system and to prevent such abuses from happening again. In all, the case went through nine appeals; in each instance, Cobell's side won. During the process, her team discovered that Interior had funneled IIM funds into other government activities, such as bailouts during the Savings and Loan scandal and payments on the national debt. When the MacArthur Foundation granted Cobell a $310,000 "genius award" for exposing government corruption, she donated the money toward lawsuit expenses.
In 2009, thirteen years after Cobell had first filed suit, Secretary of the Interior Ken Salazar agreed to settle the case. A year later, President Barack Obama signed the Claims Resolution Act. The $3.4 billion settlement is the largest in U.S. history, but far less than the hundreds of billions of dollars actually owed Indian landowners. Yet Cobell and her team accepted the settlement, knowing that a full reckoning would only extend the case for years.
Cobell's courage and tenacity galvanized American Indians who suffered without recourse against governmental corruption. To them, "Elouise will always be remembered . . .  as a woman who fought the battle many of us didn't know how to fight." Cobell v. Salazar set the precedent for tribal trust cases that are still ongoing.
Closer to home, the Blackfeet tribe formally honored Cobell with warrior status in 2002. Cobell passed away in 2011, but her legacy to her people is evidenced in a statement made by a Blackfeet student, who wrote in a letter to Cobell "I think you did a miraculous thing. Who would've known it would be a Native American woman from the Blackfeet Reservation to do something most people wouldn't dare to do. . . . One day I desire to be like you. . . . I want to become a Native American Rights Activist to stand up for my people."  LKF
Listen to Cobell discuss the lawsuit on Democracy Now in 2008.
 Sources
Berger, Bethany R.. "Elouise Cobell: Bringing the United States to Account." In Our Cause Will Ultimately Triumph: The Men and Women Who Preserved and Revitalized American Indian Sovereignty. Tim Alan Garrison, ed. Durham, N.C.: Carolina Academic Press, 2013, forthcoming. Online at http://ssrn.om/abstract=2161103.
Cates, Kristen. "Cobell's Impact Felt Far and Wide." Great Falls Tribune, October 18, 2011, 1A, 3A.
Coleman, Travis. "Blackfeet Woman's Battle for Trust Settlement Long, Pitched." Great Falls Tribune, January 3, 2010, 1A, 3A.
DesRosier, Ed. "Elouise Cobell Found and Won More Than One Battle for Natives." Great Falls Tribune, November 10, 2011. http://www.indiantrust.com/article/tribletter.
"Elouise P. Cobell." http://en.wikipedia.org/wiki/Elouise_P._Cobell. Accessed September 10, 2012.
"Elouise Remembered." Letters, tributes, and e-mail s collected by Indian Country Today Media Network and Indian Trust.com. http://www.indiantrust.com/article/elousie_rem  and http://www.indiantrust.com/comments. Accessed September 10, 2013.
"Indian Leader Cobell, 65, Dies." Helena Independent Record, October 18, 2011.
Johnson, Peter. "Blackfeet Activist Cobell Wins $310,000 'Genius Grant.'" Great Falls Tribune, June 17, 1997, 1A, 8A.
Maas, Peter. "The Broken Promise." Parade Magazine. September 9, 2001, 4-6.
Mauk, Sally. Interview with Keith Harper. MTPR, April 16, 2013. http://mtprnews.wordpress.com/tag/cobell-v-kempthorne/. Accessed September 11, 2013.
"President Barack Obama Remembers Elouise Cobell." November, 27, 2011. http://www.indiantrust.com/remember. Accessed September 10, 2013.
Puckett, Karl. "Indians Extol Hard-Fought Trust Victory." Great Falls Tribune. January 16, 2011, 1A, 3A.
Szpaller, Keila. "Cobell Speech Inspires, Shames." Great Falls Tribune, July 4, 2005.
Whitty, Juila. "Elouise Cobell's Accounting Coup." Mother Jones. September 1, 2005. http://www.motherjones.com/politics/2005/09/accountin-coup-0. Accessed September 10, 2013.