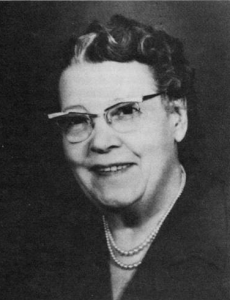 Dr. Sadie Lindeberg of Miles City had an exceptional career by any standard. She became a doctor in 1907, a time when there were perhaps as few as three women physicians in all of Montana. She practiced well into her eighties and delivered, by her own count, over eight thousand babies in a career that spanned more than half a century. These accomplishments alone make Lindeberg a notable figure in Montana history, but her work helping girls and women through unwanted pregnancies—at a time when pregnancy out of wedlock was shameful and abortion was illegal—makes Dr. Lindeberg's story truly extraordinary.
Born in 1884 to Swedish immigrants Nels and Hanna Lindeberg, who homesteaded a few miles west of Miles City, Lindeberg claimed to have been the first white baby born in the area. Sadie graduated from high school in Miles City in 1901. After working for a few years as a substitute teacher, she enrolled in medical school at the University of Michigan. Graduating in 1907, she took a yearlong internship at the Women and Children's Hospital in Chicago, then returned home to establish a private practice.
Maternal care was hard to come by in Montana in the early twentieth century, and Dr. Lindeberg's services were in high demand. For at least one family, she was at the births of three generations: Eleanor Drake Harbaugh, born in 1910; Eleanor's son Loren, born in 1942; and Loren's daughter Mianne, born in 1964.
In addition to helping happy families grow, Dr. Lindeberg also helped women who found themselves unhappily pregnant, facilitating adoptions and providing safe abortions. Many of Lindeberg's adoption records were lost, and those that remain appear to have been forged to protect the privacy and reputations of the unwed mothers. Thus, it is impossible to know how many adoptions she facilitated.
Marijane Morin discovered that she was one of "Sadie's babies" when she was sixty-three years old. By that time her adopted parents had died, but she was able to discover the identity of her birth parents by talking to longtime residents of Miles City and looking through old yearbooks. Lindeberg's own adopted daughters, Hanna Lindeberg Reynolds and Jean Lindeberg Stenken, were more typical in that they never knew anything about the circumstances of their births.
Lindeberg is perhaps best (and most controversially) remembered as "one of the state's leading abortionists." Abortion was illegal in Montana from the territorial period until the U.S. Supreme Court voided anti-abortion statutes in 1973. Nonetheless, all Montana's major towns had professional abortionists, many of whom were physicians. Before 1973, some women experienced dangerous "back-alley" procedures—but others found their way to physicians like Dr. Lindeberg, whose reputation for safety and discretion became widespread.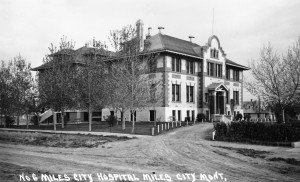 While other Montana doctors did not necessarily approve of Lindeberg's practice, they also did not take measures to stop her. One Miles City physician, Dr. Sidney Pratt, recalled that he "got all hot and bothered" when he first learned that abortions were being offered in his community, but he eventually had to admit to himself that Lindeberg "fulfilled a social need, that was going to be met by a person who was capable of doing it, or a person who was not." Pratt, who at one point served as the director of the Maternal, Family, and Child Health Bureau of Montana's Department of Health and Environmental Sciences, acknowledged the need for safety: "There were a lot of coat-hanger abortions being done and we ran into a lot of problems with that, infections and all sorts of things. We decided Sadie was doing a good job. Let's let her do it, rather than all these quacks."
Anecdotal evidence supports Lindeberg's reputation for safety and compassion. Ann Dunbar received an abortion from Dr. Lindeberg in 1963. She later told an interviewer, "Dr. Sadie was like a little old lady doctor and I found it quite remarkable that she was doing what she was doing with such fervor. She described everything that was going to happen and what could not happen. She was very fair about the whole thing."
Interestingly, Dunbar also recalled that Lindeberg first refused to help her because she was married. Dunbar was able to convince her to perform the abortion only after promising that she would obtain a divorce and revealing that her husband was African American (which indicates both a possible prejudice on Lindeberg's part and the general discrimination that families with mixed-race children could expect in that era). "She was principled," remembered Dunbar. "She really believed in families. I think she felt if you were married there was no reason to have an abortion. She didn't like that at all."
Like many abortionists in the period, Lindeberg was never prosecuted for her actions, and the open secret of Lindeberg's abortion practice did not seem to tarnish her reputation. She was honored as the Miles City Business and Professional Club's Woman of the Year in 1953, by the Montana Medical Association in 1957, and by the American Medical Association in 1960.
Lindeberg expressed no regrets for her career path. Speaking to the Great Falls Tribune in 1965, she said, "I've enjoyed my work, every bit of it. And if I had the choice I certainly would ask for a refill of the same." Lindeberg died four years later, in 1969 at the age of eighty-four. AH
Related articles in this series include "Childbirth and Maternal Health in Early-Twentieth-Century Montana" and " 'You Had to Pretend It Never Happened': Illegal Abortion in Montana."
Interested in learning more? Read Mary Melcher's article, "'Women's Matters': Birth Control, Prenatal Care, and Childbirth in Rural Montana, 1910-1940" in Montana The Magazine of Western History 41, no. 2 (Spring 1991), 47-56. You can find links to the full text of all Montana The Magazine of Western History articles relating to women's history here.
Sources
Dunbar, Anna. Interview by Diane Sands. OH 164-01, Illegal Abortion in Montana Oral History Project, K. Ross Toole Archives, Maureen and Mike Mansfield Library, University of Montana, Missoula.
Gudmunson, Pat. "Counts Babies, Not Birthdays." Billings Gazette, April 19, 1964, 6.
Hill, Jennifer J. "Midwives in Montana: Historically Informed Political Activism." Ph.D. diss., Montana State University, 2013.
Jones, Helen Carey, comp. Custer County Area History: As We Recall. Dallas: Curtis Media Corporation, 1990.
LaBoe, Barbara. "A Mother's Day Story: Roadmap to Her Roots." Montana Standard, May 10, 2003. Accessed April 22, 2104.
Melcher, Mary. "'Women's Matters': Birth Control, Prenatal Care, and Childbirth in Rural Montana, 1910-1940." Montana The Magazine of Western History 41, no. 2 (Spring 1991), 47-56.
"Sadie Lindeberg, Pioneer Doctor, Dies at Age 84." Billings Gazette, Feb. 9, 1969, 8.
Sands, Diane. "Using Oral History to Chart the Course of Illegal Abortions in Montana." Frontiers: A Journal of Women Studies 7, no. 1 (1983), 32-37.
Savitt, Todd, "Abortion in the Old West: The Trials of Dr. Edwin S. Kellogg of Helena, Montana."  Montana The Magazine of Western History 57, no. 3 (Summer 2007), 3-20
Stout, Tom, ed. Montana, Its Story and Biography: A History of Aboriginal and Territorial Montana and Three Decades of Statehood. Vol. III. Chicago: American Historical Society, 1921.
Winter, Malcolm D., Jr., Malcolm D. Winter, Sr., and Friends. Miles City Medical History, 1876-2005. Miles City, Mont.: Judson H. Flower Jr. Library, 2007. Accessed April 22, 2014.