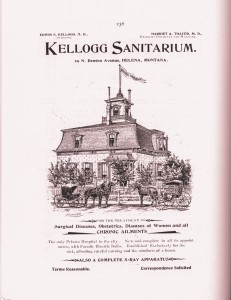 Terminating a pregnancy was illegal in Montana until 1973, when the U.S. Supreme Court ruled in the case of Roe v. Wade that abortion was a constitutionally protected right. Nevertheless, the practice of abortion was still commonplace. The stories of Montana women who obtained illegal abortions reveal the uncertainty, fear, shame, and danger they experienced.
Abortion before "quickening" (fetal movement) was legal in the United States prior to the 1860s, but around 1860 politicians and members of the American Medical Association campaigned to outlaw the practice. During Montana's territorial period, it was illegal to induce abortions with either medicine or instruments, except in cases where the life of the mother was at risk. By 1895, the woman receiving the abortion as well as the person performing it were subject to prosecution.
The criminalization of abortion did not mean the end of the practice, and Montana women continued to seek professional help, or in some cases, to help each other, when they wanted to terminate a pregnancy. The practice decreased as women had greater access to contraceptives in the twentieth century, but a variety of factors—ranging from fear of complications during pregnancy to the shame of childbirth out of wedlock—meant that there was continued demand for underground abortions.
Anna Dunbar grew up in Bozeman and was married and living in New York City when she became pregnant in the summer of 1963 at the age of twenty-two. Her husband had children from a previous marriage and "wasn't really terribly interested in having any more." Dunbar recalls how agonizing the decision was: "I didn't want children at that time either, but somehow when you find yourself pregnant and you're married and it sort of . . . . It was a very, very difficult decision for me to make." Dunbar had the support of her parents; she remembered her father saying, "In civilized countries, they do this in the hospitals." Consequently, she returned to Montana to seek an abortion with Dr. Sadie Lindberg in Miles City.
Dunbar was fortunate to have found a safe and reputable physician to perform her surgery. Other Montana women were not as lucky. One recalled her horrific experience with an abortion provider in Shelby after becoming pregnant at the age of sixteen:
I looked around and, God, it was just, a stainless steel basin . . . with these instruments in it . . . the water was bloody and there was a sort of film of crud over the instruments, and . . . there was blood on the floor, and there was another bowl that had these sort of bloody looking sponges in it. . . . I've heard terrible stories . . . how these women just, you know, died. They got infections and they hemorrhaged and they died. And I sat there and I realized, God, this is going to happen to me.
In this case, the provider seems to have been an elderly doctor, but in other instances women received abortions from prostitutes or even performed the procedure themselves with the help of a trusted friend. Almost always the abortion was performed without anesthesia.
Despite moral and religious objections, poverty was frequently the impetus for ending a pregnancy. Historians estimate that during the Great Depression as many as one in four pregnancies was terminated. A woman who identified herself as E. M. had multiple abortions in the early 1930s. She was married, but she and her husband felt it was "unethical" to have children that they could not provide for. They attempted a variety of birth control methods—cold water and turpentine douches, condoms, diaphragms—but she still became pregnant three times, and in each case, decided to terminate the pregnancy. In the 1940s, when their farm was more economically stable, E. M. and her husband had two daughters. She later told an interviewer that she felt her daughters grew up to enjoy successful lives because they were "planned."
For women who obtained illegal abortions, the secrecy, shame, and horrific conditions all had a lasting effect. One woman recalled, "Now I'm aware of how demeaning that was, that the whole thing was so shameful. . . . [Y]ou had to keep it a secret, you had to pretend it never happened. It's just denying such a part of yourself." Some women were politicized by their experiences and joined the women's rights movement of the late 1960s. One interviewee even began to assist a doctor who performed abortions: "When it was over, I just said, 'God, that is never going to happen to me­ again, ever. If I have anything to do about it, it's never going to happen to anybody that I know ever again.' " AH
Want to learn more? Read Todd Savitt's article,  "Abortion in the Old West: The Trials of Dr. Edwin S. Kellogg of Helena, Montana." published in Montana The Magazine of Western History 57, no. 3 (Summer 2007): 3-20. You can find links to the full text of all Montana The Magazine of Western History articles relating to women's history here.
Sources
Dunbar, Anna. Interview by Diane Sands. Illegal Abortion in Montana, Oral History Project, OH 164-01, K. Ross Toole Archives, Maureen and Mike Mansfield Library, University of Montana, Missoula.
Melcher, Mary. " 'Women's Matters': Birth Control, Prenatal Care, and Childbirth in Rural Montana, 1910-1940." Montana The Magazine of Western History 41, no. 2 (Summer 1991): 47-56.
Sands, Diane. "Using Oral History to Chart the Course of Illegal Abortions in Montana." Frontiers: A Journal of Women Studies 7, no. 1 (1983): 32-37.
Savitt, Todd. "Abortion in the Old West: The Trials of Dr. Edwin S. Kellogg of Helena, Montana."  Montana The Magazine of Western History 57, no. 3 (Summer 2007): 3-20