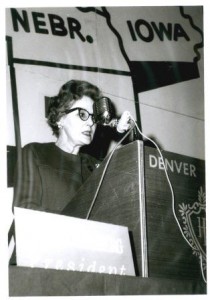 Gretchen Garber Billings was a journalist and activist who dedicated her career to advancing progressive causes in Montana. Born in Whitefish but raised in the Seattle area, Billings returned to her native state after World War II to work as a journalist and editor for the People's Voice, an independent, cooperatively owned, left-leaning newspaper based in Helena. At the Voice, Billings spent almost two decades fighting for those she believed were underrepresented in politics and government: "We felt the mandate was to defend the general welfare," she said, "to be the devil's advocate, and to speak for people who had no voice: for prisoners, for civil rights, and for people who had no strong organizational structures to defend them."
The People's Voice was created at the end of the New Deal as an alternative to the Anaconda Company–controlled dailies that then dominated Montana's news industry. Among the paper's "founding fathers" were prominent Montana politicians like James Murray and Lee Metcalf, and its values reflected what historians Michael Malone and Dianne G. Doughtery termed the "farmer-labor brand of progressivism" that thrived in the state in the first half of the twentieth century.
Gretchen's husband, Harry Billings, joined the staff of the Voice in 1946 and Gretchen came on board two years later. Together, they built the paper into a mouthpiece for progressive causes and a watchdog of the state government in Helena. Leon Billings remembered his mother as a "crusading journalist" who was a passionate activist when it came to issues she cared about, such as abolishing capital punishment. The Billingses frequently crusaded for causes that pitted them against the Anaconda Company and the Montana Power Company, often called the Montana Twins. These causes included support for union issues, worker's compensation, and public ownership of utilities. They also advocated for public health reform and Native American rights.
Harry Billings was also an uncompromising opponent of the Vietnam War, a stance that would eventually lose him the support of the Voice's governing board, which consisted of representatives of organized labor and the Montana Farmers Union. After Harry left the paper in the summer of 1968 (Gretchen had resigned earlier that year), the People's Voice quickly went out of business.
Gretchen supported her husband's controversial stance on the war. Nor was she herself one to shy away from unpopular topics. Indeed, she argued that controversy was an important function of the Voice. "We were intentionally contentious," she explained, "because unless there's controversy, people aren't thinking." At the same time, Gretchen had a softer, more amiable style than did her husband, and she worked to build good relationships with the conservative politicians and businessmen that the Voice so frequently criticized.
The paper also benefitted from what Harry called his wife's "accurate reporting and lovely literary style." Journalist Anne Pettinger suggested that Gretchen "wrote articles as though she were writing letters to old friends," and that this style made her especially popular with readers.
Unfortunately, Gretchen's commitment to journalism and progressive activism brought her both physical and mental stress. The Billings family, which grew to include three boys, was frequently the subject of vitriolic attacks. In the mid-1950s, at the height of the "Red Scare," the family even received an anonymous phone call threatening damage to their home. The years of vehement opposition, combined with the pushback Gretchen and Harry were getting for his editorials on Vietnam, took their toll on Gretchen. "When I finally quit," she recalled in 1986, "it was purely and simply because I had become so bitter. I was suffering physically, and I couldn't allow myself to become a permanently embittered woman."
The sad irony is that many of their friends would later come around to agree with the antiwar position, but the damage to the Voice and to Gretchen personally had already been done. She went on to work as the secretary of a carpenter's union and eventually served as the executive director of the Montana Rural Electric Cooperatives Association.
Even after the paper folded, the Voice's legacy could be felt in Montana. Journalist Charles S. Johnson noted that the Voice's brand of progressivism is evident in the 1972 Montana Constitution: "A lot of the causes [Harry and Gretchen] fought for over the years are embedded in that document," he has said. Moreover, few would doubt that Gretchen fulfilled her goal of giving people a voice.  "As a citizen and as a journalist," her obituary notes, "Gretchen spent most of her life representing those who could not speak for themselves."  – AH
To learn more about another advocate for rural electrification, read Work Done by Muscle Power or Grit: Anna Dahl, Rural Electrification, and the Transformation of Rural Women's Work.  To learn about another anti-war activist, read Jeannette Rankin: Suffragist, Congresswoman, Pacifist.
Sources
Billings, Harry. "The People's Voice: The Dream and the Reality." Montana Journalism Review 20 (1977): 2-4.
Billings, Leon. Interview by Don Nicholl. Portland, Maine, November 29, 2001. MOH 321, Bates College, Lewiston, Maine.
"Gretchen Billings, Longtime Journalist, Dies." Independent Record (Helena), February 24, 1999, in Billings, Harry and Gretchen Vertical File, Montana Historical Society Research Center.
Malone, Michael P., and Dianne G. Dougherty. "Montana's Political Culture: A Century of Evolution." Montana The Magazine of Western History 31, no. 1 (Winter 1981): 44-58.
Missoulian staff. 100 Montanans: Our Pick of the Most Influential Figures of the 20th Century. Missoula, Mont.: The Missoulian, 1999.
Pettinger, Anne Elizabeth. "Harry and Gretchen Billings and The People's Voice." Master's thesis, University of Montana, 2006.
Pratt, William C. "The Montana Farmers Union and the Cold War, 1945-1954," Pacific Northwest Quarterly 83, no. 2 (April 1992): 63-69.
Swibold, Dennis L. Copper Chorus: Mining, Politics and the Montana Press, 1889-1959. Helena: Montana Historical Society Press, 2006.