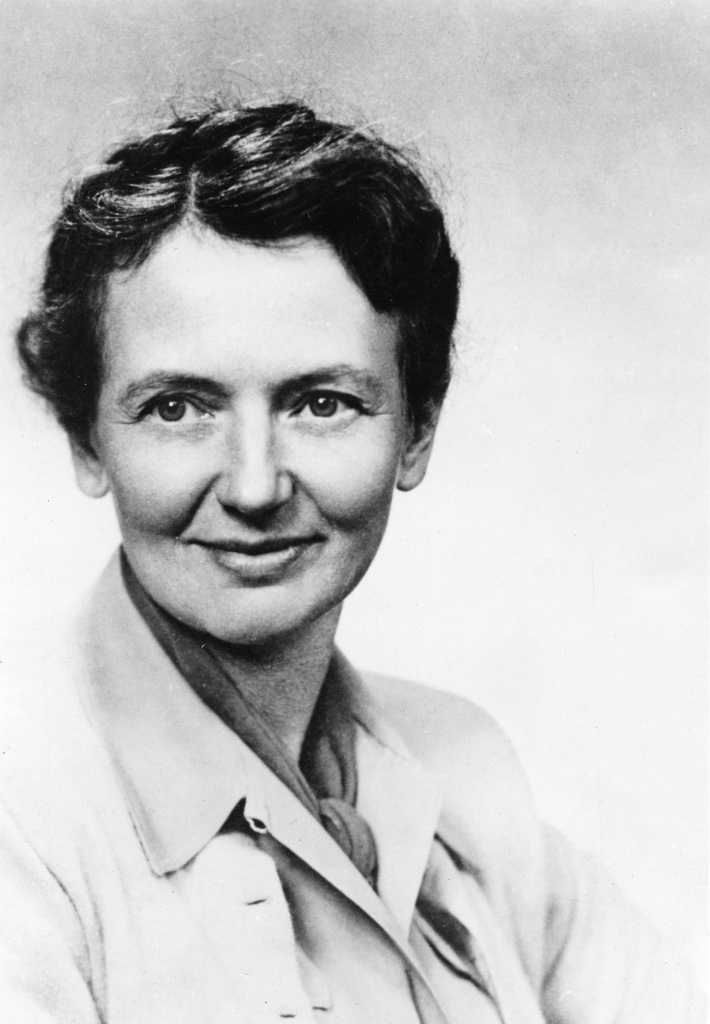 "Montana was so vast and strange to me that I didn't dare to write about it for almost ten years," novelist Mildred Walker said during the 1960s, a decade after she had left the state. But three of her best-known works—Winter Wheat, The Curlew's Cry, and If a Lion Could Talk—are set in Montana. The novels' richly developed female characters reflect Walker's own ambivalence about the state: its traditions, weather, landscape, and capacity to nurture or starve women.
Walker was born in 1905 in Philadelphia to a schoolteacher mother and a preacher father—a family for whom the right words had power. She wrote her way through Wells College in New York and set the terms of her marriage to Michigan-born physician Ferdinand Schemm:  that she would write, that he would embrace his profession unstintingly, that she would not do the washing. They started married life in Michigan's Upper Peninsula logging communities but soon moved to Ann Arbor, where Walker earned her M.A. in creative writing. Her award-winning and first published novel, Fireweed, paid for the young couple's move to Great Falls in 1933.
There they found a craftsman bungalow that gave their two oldest children, Ripley and George, tricycle-riding, small-town freedom; Schemm an easy commute to both hospitals; and Walker a niche for her desk.  For the next decade Mildred Walker Schemm intertwined the multiple roles she had established for herself: well-dressed doctor's wife, arms-length mother, friend, and writer.
In 1944, the family moved to a rambling haven south of Great Falls and next to the Missouri River. By then, they had welcomed their third child, Christopher, begun escaping to a rustic cabin on the Rocky Mountain Front, and celebrated Dr. Schemm's growing prominence in heart research. The family's friendships included artist Fra Dana and literary lights Joseph Kinsey Howard and A. B. Guthrie, Jr. Household help and a quiet study of her own allowed Walker her most productive writing years before Schemm's death in 1955.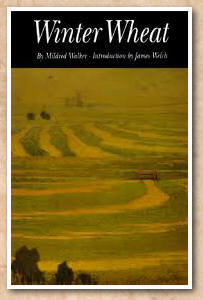 During Walker's twenty-two Montana years, she taught her daughter to clear a table properly; sold Great Falls Junior League state fair tickets; hosted afternoon teas and  dinner parties; typed her physician husband's research papers; and published nine of her thirteen novels, including two of the three set in the state. In short, Walker first experienced and then captured the hardship, fellowship, loneliness, and ambiguities that have defined life for many Montana women across time and across the region's topography.
Hence, at the beginning of World War II, Winter Wheat's Ellen Webb heads from her family's farm to school in Minnesota, impatient to gain the grace and erudition missing in her hardscrabble, windswept High Plains life. The college boy she brings home mocks rural Montana and cannot cope. Economic realities require her to take a teaching position in an isolated one-room school. Loss and loneliness force her to wrestle with how she understands her tough Russian emigrant mother, her parents' partnership, and her own choices. Walker ultimately accords Ellen a measure of acceptance and appreciation for Montana's unforgiving wind and her mother's work-reddened hands. She employs winter wheat as a metaphor for how women—and men—grow through tough times.
In The Curlew's Cry, Walker again peopled her Montana setting with capable twentieth-century women uncertain about how to live with or live beyond the West's cowboy myths, survive the huge lonely land, and honor their own consciences. Pamela Lacey divorces her Eastern husband and, though ridiculed by the men in her community, makes a go of turning her father's cattle operation into a dude ranch. Small-town milliner Madame Guinard and Pamela's lean, tough-talking friend Rose Morley—described as "a broom with an apron and shawl tied to her" and patterned after one of the Walker family's colorful Missouri River housekeepers—give her relevant examples of how to be an independent woman. And still, the curlew's cry—loneliness—defines Pamela's life.
If a Lion Could Talk is Walker's only Montana-based novel set in the nineteenth century. In it, she re-creates the real Fort Union fur magnate, Alexander Culbertson, and his elegant Blood Indian wife, Natawista, as Fort Benton's fictional Major Phillips and Eenisskim. When New England missionaries Mark and Harriet Ryegate step into this multicultural frontier world, their lives slowly begin to unravel. Mark's proselytizing fails, he finds himself drawn to the exotic Eenisskim, and Harriet wants only to return to the East and their old lives. Walker allows the foursome to wrestle with the choice of physical and spiritual homes—wild and challenging lands or conventional territories.
Walker left Montana abruptly after her adored husband's death—the memories too powerful to endure—to teach at her alma mater. Later, retired from Wells, she lived for a while in her birth family's Vermont home, traveled, and published two more works. She returned to Montana to summer at the Schemm cabin on the Rocky Mountain Front and later to live near her daughter in Missoula.
Though each of her novels enjoyed measured acclaim on publication, Walker's visibility lagged in later years.  Readers know her now through the University of Nebraska Press's mid-1990s reprints, though still not as well as the male authors she entertained around her dining table in Great Falls.
Drawing on her own varied roles—vibrant and confident young matron, easy colleague to Montana's mid-century greats, joyful outdoorswoman, lonely widow—Walker wrote of people and geography from deep within her own life. Even as her health declined, she pushed herself to finish one more novel and to keep up her journal. After her mother's death in 1998, daughter Ripley Schemm recalled Walker's late-in-life admission that she "was writing for her life." In fact, Walker wrote for the lives of twentieth-century Montana women—finding her way word-by-word across the roles and landscapes that faced her female contemporaries.  MSW
Read about another iconic Montana author in "A 'Witty, Gritty Little Bobcat of a Woman': The Western Writings of Dorothy M. Johnson."
 Sources
Andre-Beatty, Pandora. "Disrupted Conventions: Gender Roles in Mildred Walker's The Curlew's Cry and Winter Wheat." M.A. thesis, University of Montana, Missoula, 2007.
Blew, Mary Clearman.  Bone Deep in Landscape: Writing, Reading, and Place. Norman: University of Oklahoma Press, 1999.
_______.  Introduction to The Curlew's Cry, by Mildred Walker. Lincoln: University of Nebraska Press, 1994, 1-7.
Hugo, Ripley. Writing for Her Life: The Novelist Mildred Walker.  Lincoln: University of Nebraska Press, 2003.
McNamer, Deirdre. Introduction to Unless the Wind Turns, by Mildred Walker. Lincoln: University of Nebraska Press, 1996, vii-xiii.
Welch, James. Introduction to If A Lion Could Talk, by Mildred Walker. Lincoln: University of Nebraska Press, 1995, vi-xiii.
_______. Introduction to Winter Wheat, by Mildred Walker. Lincoln: University of Nebraska Press, 1992, ix-xiii.