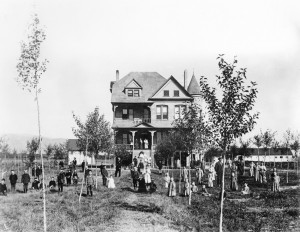 At first no one noticed the children as they sat quietly in the Butte-Silver Bow County Courthouse. The six Freedman children, ages eight to fifteen, had filed in with their mother early that morning in 1938. Recently divorced from her husband and earning little in her job as a research editor, Alice Freedman was overwhelmed. Before leaving the children, she told them to wait for her return. As the day wore on, county workers noticed the children. At noon they bought them lunch and contacted the juvenile court. That evening, the Freedman children were taken to a local receiving home. Within two weeks, they were committed to the state orphanage and on their way to the facility in Twin Bridges.
Similar scenarios had played out for the thousands of other residents of the Montana State Orphanage. Most, like the Freedman children, were not true orphans, but rather "orphans of the living," from homes shattered by devastating poverty, turbulent parental relationships, substance abuse, poor parenting skills, or physical and emotional abuse. In the absence of local, state, or federal social welfare programs, the state orphanage was one of the few options available to these children and the destitute women who could no longer care for them.
Between 1894, when the facility opened, and 1975, when legislative cuts forced its closure, the Montana State Orphanage housed over five thousand children. Established to provide "a haven for innocent children whose poverty and need might lead to lives of crime," the orphanage was designed along nineteenth-century lines to prepare children for productive adult lives by segregating them and providing them with food, education, vocational training, and a rigid structure.
However, even as the orphanage's first building, a sprawling Victorian structure known as "The Castle," was being completed, attitudes toward needy children were changing. By the early 1900s, Progressive Era reformers began arguing that orphanages were dehumanizing and rife with abuse. Children, they claimed, needed a healthy home life, with their parents, if possible, or, if not, with a worthy foster family. To achieve this goal, they advocated the creation and expansion of government agencies to address the needs of abandoned, abused, or widowed women and their children.
Emma Ingalls and Maggie Smith Hathaway, the first women elected to the state legislature in 1916, worked to advance these goals in Montana. Hathaway championed creation of the Montana Mother's Pension, which provided direct financial support to abandoned or widowed women, allowing some of them to keep their children at home. Ingalls advocated for creation of the Bureau of Child and Animal Protection to provide oversight for children adopted or placed in foster care. With the creation of the bureau and the Mother's Pension, the state orphanage began its transformation from a predominantly long-term care institution to a way station for children until foster homes could be found.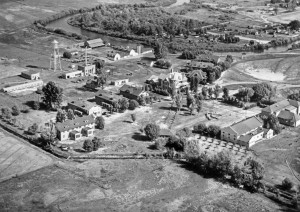 The trend away from institutionalizing children continued in the 1930s, when the depression brought the expansion of government social welfare programs. Aid to Dependent Children (ADC), established in 1935, provided direct relief to poor single mothers. With the expansion of this and other social welfare programs, as well as a growing emphasis on foster care and a postwar prosperity that left fewer families destitute, increasingly fewer children ended up in the orphanage. In the 1930s the average population of the Twin Bridges institution was 282. By 1959, when the facility was more appropriately renamed the Children's Home, the average number of residents had declined to 156. By 1975, when the facility closed, only 50 children were in residence, awaiting placement in foster care.
One hundred years after the Montana State Orphanage opened its doors, the issue of how government should respond to poor women and their children reignited during the debate over welfare reform. In fact, Congressman Newt Gingrich, the author of the Republican Party's "Contract with America," specifically espoused reopening orphanages as a cost-cutting measure.
At a reunion held in 1995, former residents of the orphanage—who had lived there between 1914 and 1969—discussed the debate over reopening orphanages and their varied experiences in the facility. Some felt that with reforms—more affection for individual children, more oversight of staff, and more allowances for siblings to be together—orphanages could provide proper care. Most agreed, however, that the orphanage system, as they experienced it, had failed them.
Harold Freedman, one of Alice Freedman's oldest children, stated that "It was in some ways a rather shocking move . . . to be put in an orphanage, but . . . I felt a lot of pressure lifted off me because I had worried so much about our situation." Fred Wentz found orphanage life particularly hard because he had siblings who had remained at home. "The problem was that I knew I had brothers and sisters somewhere. . . . I just didn't know why I was in the orphanage and not with them. That hurt me. I've carried that throughout my life." For Donna Engebretson, the orphanage provided an important safety net. Even so, she said, "I had a lot of difficulty in my later years . . . understanding how the outside world worked, how a family functions and understanding relationships."
Alice Freedman, and other women like her, did not want their children growing up in the orphanage; it was simply their only option. In the years following her children's placement, Freedman worked to have the four oldest children released to her. The youngest, a set of twins, left the home in 1945.
Expansion of social welfare programs led to the orphanage's closure. While these programs did not guarantee healthy homes for destitute women and families like the Freedmans, they clearly expanded the possibility of achieving such homes. JF
Women religious played a large role in creating private institutions, including schools and orphanages. Learn more about their work in "Early Social Service Was Women's Work."
Sources
Baumler, Ellen. "After Suffrage: Women Politicians at the Montana Capitol." Women's History Matters blog. https://montanawomenshistory.org/after-suffrage-women-politicians-at-the-montana-capitol/. Accessed November 17, 2014.
Engebretson, Donna. Interview by Jodie Foley, July 22, 1995, OH 1632, Montana Historical Society Archives, Helena.
Freedman, Harold. Interview by Jodie Foley, July 21, 1995, OH 1634, Montana Historical Society Archives, Helena.
Freedman, Noel. Interview by Jodie Foley, July 21, 1995, OH 1633, Montana Historical Society Archives, Helena.
"Memories of the Orphanage." Seattle Times, July 21, 1995. http://community.seattletimes.nwsource.com/archive/?date=19950721&slug=2132492. Accessed November 17, 2014
Montana Children's Center Records. RS 95, boxes 5 and 7, Montana Historical Society Archives, Helena.
"The Rise and Demise of the American Orphanage." Johns Hopkins Magazine, April 1996. http://pages.jh.edu/~jhumag/496web/orphange.html
Wentz, Fred. Interview by Jodie Foley, July 22, 1995, OH 1635, Montana Historical Society Archives, Helena.
"White House Conferences on Children." Encyclopedia of Children and Childhood in History.  http://www.faqs.org/childhood/Wh-Z-and-other-topics/White-House-Conferences-on-Children.html. Accessed October 27, 2014.