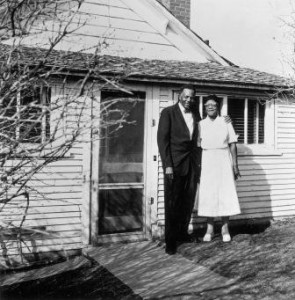 Rose Gordon was born 1883 in White Sulphur Springs to a former slave and a black Scottish-born immigrant. Her commitment to service makes her life notable, while the grace and advocacy she showed in navigating the racist currents common to small-town Montana sheds light on the African American experience.
Rose's father, John, came to Montana Territory by steamboat in 1881 to cook on the mining frontier; her mother, Mary, followed a year later. The family purchased a home in White Sulphur Springs, Meagher County, where John worked as a chef for the town's primary hotel. At the time the family settled there, Meagher County was home to some forty-six hundred people, including thirty African Americans.
In the 1890s John Gordon was killed in a train accident, leaving Mary Gordon to support five children by cooking, doing laundry, and providing nursing care for area families. Despite the long hours she gave to helping her mother, Rose graduated from high school as valedictorian. Her graduation oration, "The Progress of the Negro Race," ended with praise for the African American educator Booker T. Washington, and Rose's life thereafter gave testimony to Washington's emphasis on self-improvement, self-reliance, education, and non-confrontational relationships with white people.
Continue reading Rose Gordon: Daughter of a Slave and Small-Town Activist →