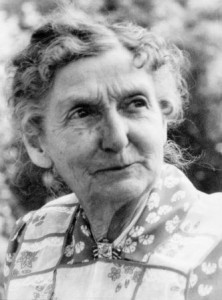 When Nannie Alderson and her husband, Walt, immigrated to Montana in 1883, they were among the first wave of settlers in eastern Montana's nascent cattle kingdom. A Bride Goes West, Alderson's memoir of her years as a rancher's wife, is consistently listed as one of the best books about Montana. In it, she famously paraphrased Theodore Roosevelt, stating that Montana was "a great country for men and horses, but hell on women and cattle." The story of her transition from a life of Southern privilege to the hardships of ranching on the Northern Plains has come to symbolize the experience of the pioneer woman in Montana.
Alderson grew up in a wealthy West Virginia family. She met Walt while visiting relatives in Kansas in 1882, and they were married in the spring of 1883. Possessed by a "feverish optimism" about the prospects of cattle ranching in Montana, the couple settled on a homestead south of Miles City. In her memoir, Alderson recalls an overwhelming sense of possibility: "Everyone, it seemed, was making fabulous sums of money or was about to make them; no one thought of losses; and for the next year my husband and I were to breathe that air of optimism and share all those rose-colored expectations."
The Aldersons arrived in Montana during a period of rapid change. The Northern Cheyennes considered the area around the Rosebud River theirs by treaty right, even after they had lost a bitter war and faced temporary exile to Indian Territory in Oklahoma. Thus, the Aldersons settled on lands still occupied by the increasingly desperate Northern Cheyennes, who would not gain their own reservation until 1884.
Ecological changes were also occurring. Not only had the buffalo been systematically removed, but the tall, rich buffalo grass that had made the area seem like ideal cattle country had almost disappeared—victim of three short years of overgrazing. These demographic and environmental upheavals set the stage for a series of disasters that would soon undercut the optimistic assumptions of ranchers like the Aldersons.
Nannie Alderson's description of her first year on the ranch details a series of cultural shocks and adjustments. Her model of femininity was her mother, "a southern lady of the floweriest tradition," and her upbringing reflected the expectation that she would live in similar circumstances. The world she encountered in Montana could not have been farther from her comfortable southern home. She recalled being "both fascinated and embarrassed" by the crudeness of masculine conversations, awestruck by the "vast monotony" of the landscape, and especially dismayed by the "primitive and uninviting" log shacks that served as housing for aspiring ranchers.
Alderson also had to adjust to the dramatically different gender roles and expectations of pioneer life. She was shocked to learn that men in Montana could cook, but grateful, since she admitted that she knew "no more of cooking than I did of Greek" when she first married. Although they taught her to cook, the men were less helpful when it came to lessons in how to do laundry, clean house, and polish scuffed boots, tasks that had always been done by black servants in her childhood.
The first year, though challenging, was also a bit romantic for Alderson, especially because she and her husband both believed that their stay in Montana would be temporary and that they would move back East after amassing wealth from their cattle operation. However, their dreams of getting rich quick were soon frustrated. In March of 1884, on the same day that Nannie gave birth to the couple's first child in Miles City, a group of Northern Cheyennes burned down their ranch house in retaliation for the act of a hired hand, who had shot at a prominent tribal member. Tellingly, in this and subsequent conflicts with the Cheyennes, Alderson described it as being "no fault of their [the ranchers'] own," reflecting a lack of empathy typical of contemporary Euro-Americans.
The Aldersons rebuilt, but thereafter they had to, as Nannie termed it, "pioneer in earnest," having abandoned the idea that cattle ranching was a path to quick riches. A decade after moving to Montana, and no closer to the wealth they had once dreamed of, the Aldersons gave up ranching and moved to Miles City. Walt died in an accident in 1895, leaving Nannie to raise four young children.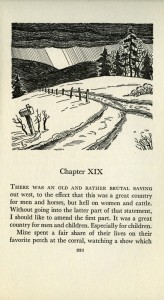 Alderson's account of ranch life, as told to writer Helena Huntington Smith and published in 1939, is rich and informative. The isolation of homesteading life, the hardships of child rearing and housekeeping on the frontier, the anxieties of poverty, and her frustration at being excluded from the more interesting "men's work" on the ranch are all themes that surface in her account.
It would be a mistake, however, to assume that Alderson's experience represents the ranchwoman's experience writ large. Her relatively privileged upbringing and lack of farming background made her especially ill-suited for the challenges of pioneer life. While the hardships she describes were undoubtedly very real, other Montana women found satisfaction and fulfillment on the agricultural frontier. But not Alderson, whose model of femininity was her Southern belle mother, and who never fully reconciled herself to the hard work and sometimes meager rewards of her life on the ranch. AH
Want to learn more? Read William Bevis's article, "Nannie Alderson's Frontiers: And Ours" published Montana The Magazine of Western History 39, no. 2 (Spring 1989): 29-33. You can find links to the full text of all Montana The Magazine of Western History articles relating to women's history here.
Suggest A Bride Goes West for your next book club meeting! Already read Nannie Alderson? Check out this page for other book club ideas!
Sources
Alderson, Nannie T., and Helena Huntington Smith. A Bride Goes West. New York: Farrar & Rinehart, 1939.
Bevis, William. "Nannie Alderson's Frontiers: And Ours," Montana The Magazine of Western History 39, no. 2 (Spring 1989): 29-33.
Dusenberry, Verne. "The Northern Cheyenne: All They Have Asked Is to Live in Montana." Montana The Magazine of Western History 5, no. 1 (Winter 1955): 23-40.
Malone, Michael P., Richard B. Roeder, and William L. Lang. Montana: A History of Two Centuries, rev. ed. Seattle: University of Washington Press, 1991.
Northern Cheyenne Curriculum Committee. "Bringing the Story of the Cheyenne People to the Children of Today: Northern Cheyenne Social Studies Units." Helena, Mont.: Indian Education for All Program of the Montana Office of Public Instruction, 2006.
Svingen, Orlan J. "Reservation Self-Sufficiency: Stock Raising vs. Farming on the Northern Cheyenne Indian Reservation, 1900-1914." Montana The Magazine of Western History 5, no. 1 (Winter 1955): 23-40.