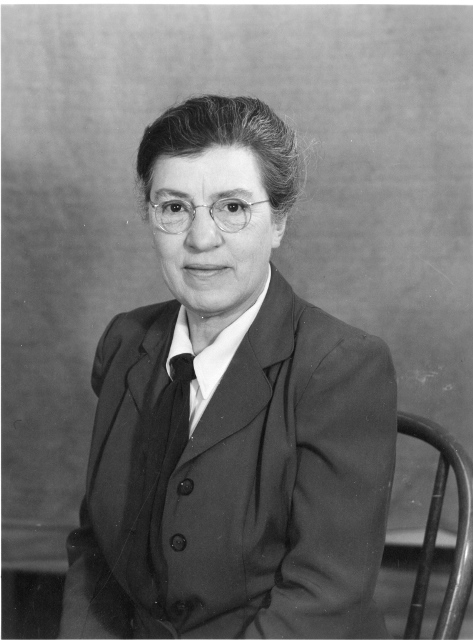 In 1922, the Extension Service at Montana State College in Bozeman hired Harriette Cushman to be Montana's poultry specialist. Over the next thirty-two years, Cushman worked to build a profitable poultry industry that proved an economic godsend during Montana's prolonged economic depression. A woman of many interests, Cushman also championed the Indian Center at Montana State University and advocated for libraries, museums, and the arts. She was also a lifelong supporter of 4-H, an environmental advocate, and a prolific writer.
Harriette Eliza Cushman was born in Alabama in 1890. She graduated from Cornell University in 1914 with a degree in bacteriology and chemistry. In 1918 she earned a poultry specialist degree from Rutgers University and became one of the few women pursuing a career as a poultry scientist.
As Montana's poultry specialist, Cushman traveled the state, educating farmers on breeding, culling, egg and bird grading, poultry housing, proper feed, and poultry health. She authored numerous seminal poultry-raising manuals that emphasized the application of scientific methods and utilized local demonstration flocks for hands-on instruction.
Montana's poultry industry expanded significantly under Cushman's guidance. Prior to Cushman's tenure as state poultry specialist, individual poultry growers worked independently, selling birds locally for whatever price they could get. In the 1920s, Cushman helped to form the nation's first egg and turkey wholesale cooperatives, enabling Montana poultry growers to negotiate top prices. As the first poultry grader for the newly formed Northwest Turkey Federation, Cushman secured nationwide markets for Montana's premium quality "Norbest" turkeys, making Montana's turkey industry the most profitable in the nation during the Great Depression.
What was profitable for farmers, however, meant exhausting work for the solitary poultry specialist, who had to coordinate poultry grading and shipping schedules so that farmers could get their poultry to market. November and December were especially busy months. On November 18, 1933, Cushman wrote to her parents from Columbus: "This has been one of the wildest weeks that has ever happened in my life. . . . When I crossed the tracks I saw the line . . . stringing . . . back four or five blocks, to the Yellowstone River bridge." It took Cushman and her assistant twelve hours to grade and pack the sixty thousand pounds of turkey. By noon the next day, the temperatures in the railroad cars were rapidly rising, and Cushman still had more birds waiting in Laurel and Roberts. "I just wanted to sit right down and cry," her letter continued, but instead she solicited help from the railroad crew to cool down the cars. Working around the clock, Cushman and her assistants graded and packed five train cars with over 144,000 pounds of turkey. "We were really shaking when the . . . switch engine man came in. . . . He called the yards: 'Hold the fast fruit express, and have the icing crew ready to get this poultry car out in a hurry!'"
Cushman regularly worked six and a half days a week, even after the legislature slashed the Extension Service's budget during the 1930s. Much of her time was spent traveling, often by train, to meet with poultry growers. Between January and August of 1942, Montana's poultry specialist logged over ten thousand miles—a distance she repeated year after year.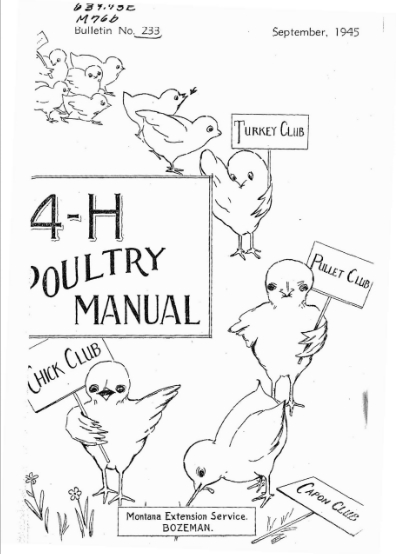 Cushman inspired many new poultry growers in Montana. She introduced poultry production into Montana's 4-H clubs, teaching youngsters how to raise exceptional flocks, grade eggs, and judge poultry. She particularly liked working on Montana's Indian reservations, where profound poverty and lack of economic opportunity were most persistent and where poultry raising made tangible positive impacts. Cushman was deeply pleased when the Blackfeet, in gratitude, made her an honorary tribal member.
Despite her exhausting schedule, Cushman found time for other interests. She spent her free time camping, hiking, and photographing Montana's mountains with friends from the Extension Service. For over thirty years, she penned intimate weekly letters to her parents, detailing her work, her social activities, and her views on political events. She and her mother both enjoyed writing, especially poetry. "Your poems are better than mine," Harriette told her mother in 1932. "You write of human relationships. They are what others want to hear about. Somehow I feel embarrassed when I write of human relationships. Nature seems easier."
Despite her own small income, Harriette Cushman regularly sent her mother money to alleviate her parents' financial hardships. Her generosity extended beyond her immediate family, however, and she devoted much of her life to the betterment of her community. In 1948, she helped found the Montana Institute for the Arts to promote the arts throughout the state. She also actively supported Montana's libraries and the development of the McGill Museum (now the Museum of the Rockies), founded by Bozeman physician Dr. Caroline McGill in 1957.
After retiring in 1954, Cushman devoted herself to promoting the success of Indian students at Montana State University. In 1969, nine years before her death in 1978, Cushman sent out six hundred handwritten invitations to her own post-life celebration and asked her many friends to contribute to the Indian Center in lieu of mourning. She willed her estate to the university, providing funds for both the Indian Center and a scholarship for outstanding American Indian students.
Cushman earned numerous awards during her lifetime, including three writing awards from the Montana Institute of the Arts. She was named a fellow of that organization in 1954. She was inducted into Mu Beta Beta, a 4-H honorary society, in 1959; a decade later the Cooperative Extension Service awarded her the Epsilon Sigma Phi "Ruby Award" for distinguished service. Montana State University dedicated its Little International Stock Show to Cushman in 1962 and bestowed an honorary Doctorate of Agriculture on her in 1963. In 1973, she received the Blue and Gold Award from the university for her lifetime service to Montana. LKF
Sources
"Bozeman Woman Throws Party After She Died." Independent Record, Helena, August 19, 1978, 6.
Burlingame, Merrill G. The Montana Cooperative Extension Service, 1893-1974. Bozeman: Montana State University, 1984.
Cushman, Harriette. "4-H Poultry Manual." Bulletin of the Montana Extension Service in Agriculture and Home Economics 233 (September 1945).
_________. Harriette Cushman Extension Service Records, 1898-1975. Accession 75040. Special Collections, Montana State University Library, Bozeman.
_________. Harriette Eliza Cushman Papers, 1893-1978. Coll 1253. Special Collections, Montana State University Library, Bozeman.
_________.  Vertical File. Montana Historical Society Research Archives, Helena.