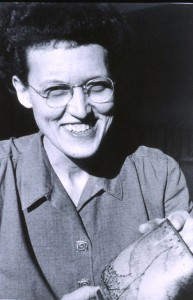 When the state college in Bozeman—now Montana State University—hired Frances Senska to teach ceramics in 1946, both the college art department and Senska herself were fairly new to the art form. The school's small fine arts program focused primarily on two-dimensional art, and Senska, who had a master's degree in applied art, had taken just two classes in ceramics. Nonetheless, hiring Senska proved fortuitous for the college and for America's burgeoning midcentury crafts movement. At Montana State, Senska also met printmaker Jessie Wilber, who became her lifelong companion and with whom she helped cultivate Montana's art community.
Frances Senska was born in 1914 and grew up in Cameroon, where her parents were missionaries. Her father, a cabinet maker and woodworker as well as a doctor, taught Frances how to use woodworking tools. The people of Batanga, Cameroon, also predisposed the girl to appreciate utilitarian crafts. "Everything that was used there was made by the people for the purposes they were going to use it for. It was low-tech. . . . And they were experts at what they did," Senska later recalled.
Senska discovered her own love of clay while stationed in San Francisco with the WAVES during World War II. At a night course from Edith Heath at the California Labor School, Senska got her hands into "real, useable clay." She immediately appreciated the autonomy of making utilitarian items by hand. "Clay is such a universal medium," she said in a later interview. "You can do anything with it. . . . It doesn't have to go through a factory system to be converted into a metal structure or something like that. . . . You do the whole thing yourself: you have the clay, you make the pot, you decorate it, you fire it; it's all your work."
As a teacher, Senska applied an approach to ceramics used by her own instructors, particularly László Moholy-Nagoy and Marguerite Wildenhain, as well as by her father and the people of Cameroon: be low-tech, find local resources, build it by hand, and see if it works. With three hundred dollars from the college art department, she and her students purchased foot-operated pottery wheels for their basement studio on campus. Together they designed and built an electric kiln. "We did things which people would never think of doing now. We went out and dug our clay and prepared it and used it, took it all the way from the hillside to the end product," Senska said in a later reminiscence.
She disapproved of the big university ceramics departments where "they had everything and it looked like a factory. And there wasn't anything the students did except go and pick up a piece of clay and make something out of it and have it fired by somebody." Senska similarly objected to the apprenticeship method where students mimicked a master's work. Instead, she wanted her students to discover their own direction. Her method proved true: among her many successful students were Peter Voulkos and Rudy Autio, two men who became world-renowned sculptors and transformed American ceramic arts.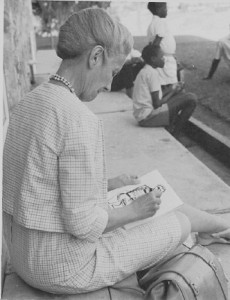 In the early 1950s, Senska and Jessie Wilber, who had become head of the college art department, designed their own house and art studios. On campus, the growing ceramics program finally moved out of the basement, but its graduates needed a place to continue their craft. Senka's former students, Voulkos and Autio, met Archie Bray, the owner of a brickyard in Helena. Bray embraced the idea of transforming the brickyard into a facility where the ceramic arts could flourish. Built by artisans like Senska, Wilber, Voulkos, and Autio, the Archie Bray Foundation is today an internationally recognized institution where ceramicists from around the world come to work in what Senska called a "tradition of cooperation, rather than competition."
That cooperative approach to the arts was also fostered by Professor H. G. Merriam, who founded the Montana Institute of the Arts in 1948. Senska and Wilber encouraged the growth of the Montana Institute, which included writers and artists of many types. They also supported efforts to bring art to Montana communities so the public could share in its enjoyment and creation. In Bozeman, they helped establish the Beall Park Art Center, which now houses the Senska Studio for community art education and the Jessie Wilber Gallery, where works by both women are on permanent display.
Senska helped Montana emerge as a prominent ceramics arts center by laboriously building the ceramics program at MSU, nurturing its students for over twenty-five years, and supporting community arts programs. In 1982, MSU formally acknowledged these contributions by awarding Senska an honorary doctorate in art. When Senska and Wilber were co-recipients of the 1988 Montana Governor's Award for Distinguished Achievement in the Arts, Bozeman's exuberant art community threw a street celebration in their honor.
Yet despite receiving several prestigious awards, Senska remained humble and unconcerned with fame. While others admired and collected her works, she held on to only a few of her own pieces, keeping instead work made by her students and a little black pot from her childhood in Cameroon. In her artist's statement for a show at Helena's Holter Art Museum in 2001, Senska simply said, "I make pots." She continued making pots into her nineties. In many ways, her life was very much like her pots: built by her own hands, beneficial to her community, purposeful, and beautifully earthy. LKF
For more videos featuring Montana women, see our streaming video page.
Sources
"Clay Artists–Frances Senska." Craft in America, n.d. Accessed May 16, 2014.
"Frances Maude Senska (1914 – 2009)." Bozeman Daily Chronicle (obituary), December 28, 2009. Accessed May 15, 2014.
"Frances Senska Suitcase." Lesson developed by students in the Art Methods class at the University of Montana–Western, n.d. Accessed May 15, 2014.
"Humble Grace: A Tribute to Frances Senska." Exhibit at the Yellowstone Art Museum, Billings, March 19, 2010 – June 27, 2010. Accessed May 15, 2014.
McMillan, Scott. "Artists in the West: Frances Senska." Big Sky Journal, Summer 2003, 34-39.
Rod, Luann. "Tea with Frances Celebrates Life of Art." Bozeman Daily Chronicle online,  January 29, 2010. Accessed May 16, 2014.
Senska, Frances. Interview by Chere Juisto and Rick Newby, June 9, 1998. OH 1805, Montana Historical Society Research Center, Helena.
________. Interview by Donna Forbes, April 16, 2001, for the Archives of American Art. Transcript available.  Accessed May 15, 2014.
________, and Jesse Wilber. Interview by Martin Holt, 1979. OH 1441, Montana Historical Society Research Center, Helena.
Smith,Marjorie."I Make Pots: From Montana Students and Big Sky Clay, Frances Senska Helped Craft a Ceramics Revolution." Montana State University Newsletter, October 1, 2010. Accessed May 15, 2014.
"Frances Senska: Art All the Time." Montana: Second Century, MontanaPBS, (first aired 1997). Accessed June 3, 2014.