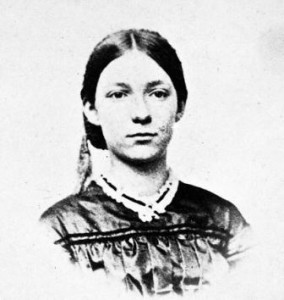 Martha Edgerton came to Bannack as a teenager in 1863. As a teacher, musician, wife, mother of seven, clubwoman, and leader in the women's suffrage movement, she successfully balanced traditional gender roles with an active public life. Widowed young, she entered the workforce, becoming the first woman editor of a Montana daily newspaper, a local and state leader in the Montana Socialist Party, and a prolific writer. Hers was a long life of striking achievements.
Edgerton was thirteen when she arrived in Bannack in 1863 after her father was appointed governor of Idaho Territory. Two years later, the family returned to Ohio, and she subsequently enrolled at Oberlin College to study music. Later, while teaching at the Ohio Institute for the Blind in Columbus, she met and married Herbert P. Rolfe. In 1876, the couple moved to Helena, where Herbert became the superintendent of public schools. Herbert and Martha Rolfe were kindred spirits: passionate advocates for equality of African Americans, women's suffrage, and the rights of the workingman.
Their activism eventually took them to Great Falls, where, in 1884, the Rolfes took out a homestead right outside the city, which had been newly surveyed and platted by Herbert himself. Four years later, Herbert—long a Republican Party activist—established The Leader, a newspaper designed to counter the influence of Great Falls founder Paris Gibson's Democratic Tribune. Though occupied with home-schooling the couple's seven children, Martha also wrote for The Leader and stayed closely involved in her husband's political crusades.
The Panic of 1893 erased much of the couple's wealth. Nevertheless, the paper survived, and the Rolfes remained active in politics, including the women's suffrage movement. Early in 1895, together with other Great Falls women, including Ella Vaughn, Josephine Trigg, and Josephine Desilets, Martha formed the Political Equality Club. The club gathered over a thousand signatures—about half of those from men— supporting women's suffrage. Later that same year, a suffrage bill passed by over two-thirds in the Montana House, only to be tabled in the state Senate. Continue reading Martha Edgerton Rolfe Plassmann: A Montana Renaissance Woman →