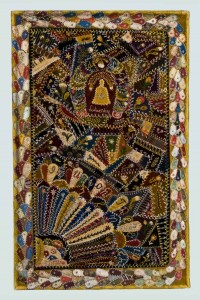 One of the challenges of women's history is that women have left behind fewer written records than men. This imbalance makes women-made folk art particularly valuable as historical evidence. As folklorist Henry Glassie elegantly put it: "Few people write. Everyone makes things. An exceptional minority has created the written record. The landscape is the product of the divine average." Painstakingly created and lovingly used, quilts especially can help us better understand the lives of ordinary Montana women.
While often created for utility, quilts allowed women to express themselves artistically, and studying quilts allows scholars to trace changes in technology, aesthetics, and cultural values over time. Quilts can also provide greater understanding about important events in women's lives, such as births, marriages, deaths, and travels. Montana historian Mary Murphy states that quilts are "fragments, clues, tiny jeweled windows onto the experiences of women in our past. They hint at networks of kinship and friendship, of the disruption and promise of migration, of the love of things warm and beautiful."
Minnie Fligelman's crazy quilt is one example of how a quilt can offer insights into both local history and national trends. According to her daughters, Frieda Fligelman and Belle Fligelman Winestine, who donated this quilt to the Montana Historical Society in 1949, Minnie Fligelman used samples from her husband Herman's merchandise cart to make this crazy quilt. Minnie Weinzweig and Herman Fligelman, both Romanian Jews, married in Minnesota in 1888 or 1889. In 1889 they moved to Helena, where Herman ran the New York Dry Goods Company. Because Minnie died while giving birth to Belle in 1891, this quilt must have been an important memento of a woman the girls never got to know.
Continue reading Using Quilts as a Window into Montana Women's History →