Montana cowboys say that rodeos weren't born; "they just growed" out of custom and necessity. Montana has bred some of the best cowboys and meanest mounts as well as some of the West's most famous women riders. Four bucked their way to renown. Fannie Sperry Steele, Marie Gibson, and Alice and Marge Greenough were world-class champions, tough to top. Each wore her laurels with a grace and dignity that belied her chosen path.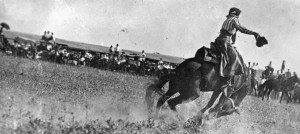 Fannie Sperry was born in the Prickly Pear Valley in 1887. Her mother taught her to ride almost before she could walk. Sperry cast aside Victorian decorum and rode astride in a divided skirt, rounding up wild horses. Local ranch kids gathered on Sunday afternoons for neighborly competitions. In 1903, sixteen-year-old Sperry awed spectators with such a ride on a bucking white stallion that onlookers passed the hat.
Fannie Sperry earned a reputation for courage, skill, grit, and sticking power on the backs of the wildest broncos, and in 1907, Sperry began to ride in women's bucking horse competitions. At the Calgary Stampede in 1912, her ride on the killer bronc, Red Wing, earned her the title "Lady Bucking Horse Champion of the World." She earned the title again in 1913.