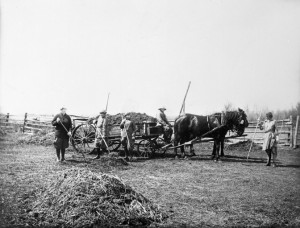 Imagine an eight-year-old child thrown into a prison cell with a hardened criminal. Until the late nineteenth century, any child over the age of seven who broke the law was normally sentenced to an adult penal institution. However, after psychologists realized that, for children especially, rehabilitation was more effective than punishment, states began to establish juvenile reformatories. Then, as women took up the cause of child labor laws, juvenile court systems, and separate women's correctional institutions, they also began a campaign to separate delinquent girls and boys in reformatories.
In 1893 the Montana legislature established the Pine Hills Boys and Girls Industrial School at Miles City. The court could commit any boy or girl between the ages of eight and twenty-one to Pine Hills for any crime other than murder or manslaughter. Judges could also remand a child to the reform school who "is growing up in mendicancy, or vagrancy, or is incorrigible." Girls were generally sentenced to reform school "to punish petty larceny; to supply a home; to effect moral salvation; to prevent further 'lewd' acts; and to provide protection from physical abuse." Boys, on the other hand, were sentenced for more criminal behaviors.As women gained a voice in government, "saving girls" was one of their first concerns. Female reformers saw creating an all-girls reformatory as a moral issue, especially since many of the girls sentenced to the coeducational Pine Hills facility were simply homeless or orphans, not criminals. Women's organizations, including the State Federation of Women's Clubs and the Good Government Club, took up the cause. Jeannette Rankin, a trained social worker, joined in advocating for a separate girls' facility. So did Helena physician and humanitarian Dr. Maria Dean, who tirelessly lobbied the Montana legislature to establish a girls' reform school.
It took women's suffrage—and the election of female legislators—to create the Montana State Vocational School for Girls. When Emma Ingalls joined Maggie Hathaway as Montana's first female state representatives in 1917, she immediately proposed a bill to create a state industrial school for girls. Her first attempt failed, but when she reintroduced the bill in 1919, it passed. The primary function of the school was "the care, education, training, treatment and rehabilitation of girls ten (10) years of age or older and under twenty-one (21) years of age who [were] committed to the school by a court as provided by law."
In April 1920, the first six girls were transferred from Miles City to the new facility seven miles north of Helena. Ten months later, twenty-eight girls occupied the new dormitory, aptly named the Maria Dean Cottage after Dr. Dean, who had died just weeks after the legislature authorized the school. Agriculture and hygiene were the only classes offered at first, and the girls spent much of their time helping the facility become a self-sustaining agricultural venture. By 1922, the campus was already overcrowded with sixty-six girls.

The school's inmates varied markedly. Some of the girls were orphans, others had behavioral problems, and still others were labeled incorrigible because they had run away from home. No matter why girls were sentenced to the school, they all faced harsh discipline from the early matrons—despite reformers' caring rhetoric. Until the 1950s, punishment included lockup or solitary confinement, deprivation of one of the three daily meals, loss of privileges such as letter writing, and physical chastisement. Matrons often made girls stand for long periods of time, sometimes with a piece of soap in their mouths.
Administrator Ruby Miller, who took over school management in 1950, instituted welcome changes—welcome as far as the girls were concerned. In 1951, the school's four-year high school program was accredited. Miller brought in instructors to teach a variety of classes, including music, acting, and beauty culture, and she introduced swimming and softball, dances and other extracurricular activities. These reforms led some officials to criticize the facility as a finishing school rather than a detention facility.
Although the state added maximum security units after Miller died in 1960, her emphasis on education and rehabilitation rather than punishment remained the norm, at least for a time. In 1967, the name changed to Mountain View School for girls. In 1971, the school's male administrator noted that a girl "would never be any good if she doesn't like herself." His policy of solitary confinement, however, hardly encouraged self-esteem. A 1993 investigation revealed violations of the girls' rights under the 1980 Civil Rights of Institutionalized Persons Act. The investigatory report noted inadequate staff training, excessive use of seclusion and restraints, and a facility "grossly deficient" in terms of environmental and fire safety. The school subsequently closed in 1996.
The Mountain View campus now houses the Montana Law Enforcement Academy, but poignant traces of the girls remain in the graffiti, much of it dated to the 1930s, scrawled on the walls of a forgotten attic with sealed windows and a door with triple locks. Messages and doodles on the peeling plaster tell of the misery some girls endured at Mountain View. Tick marks count days of confinement, looping hearts symbolize a girl's wishful dream, and sassy quips speak to the insolence of youthful offenders.
Mountain View was a vision whose time ran its course. Today, judges have options such as treatment facilities, group homes, and alternatives to lockup. The system was never, and still is not, perfect. However, contemporary services would not have evolved without the actions of the women of the Progressive Era who advocated for the troubled girls of their time. EB
You can learn more about state representative Emma Ingalls in another entry in this series,  "After Suffrage: Women Politicians at the Montana Capitol," and more about women's experiences with Montana's penal system in "Biased Justice: Women in Prison."
Sources
Baumler, Ellen. "Mountain View School for Girls."
Holmes, J. D. "Girls' Vocational School Now in Its 40th Year." Independent Record, September 29, 1960.
Juvenile Justice in Montana: Department of Family Services, Montana Youth Courts, 1 Montana Board of Crime Control 1993. Performance audit Report.
Kidston, Martin. "Scrawlings in Solitary," Independent Record, September 19, 2004. "Montana State School for Girls."
Montana Historical Society Research Center vertical files, Helena.
Westenberg, John. "State Vocational School for Girls."National Register nomination, 1980. State Historic Preservation Office, Helena, Mont.