Oshanee Kenmille dedicated eight decades of her life to making beaded gloves, moccasins, cradleboards, and other leatherwork for family, friends, tribal members, celebrities, and dignitaries. She had very little formal education, but learned from the Salish and Kootenai women in her life how to tan hides, sew buckskin clothing, and do beadwork. Kenmille then applied her expertise toward teaching others both these skills and the Salish and Kootenai languages, ensuring this cultural knowledge will continue with future generations. In spite of the many challenges and tragedies in her life, Oshanee Kenmille inspired others with her strength, her joyful spirit, and her commitment to preserving traditional tribal culture.
Oshanee's parents, Annie and Paul Cullooyah, maintained their traditional Salish way of life on the Flathead Reservation. Oshanee, who was born in 1916, began beading at age eleven while watching her mother, whose praise for Oshanee's first efforts inspired the child to develop her beading skills. Annie, who died in 1928 when Oshanee was only twelve years old, did not live long enough to see how well Oshanee succeeded.
Like many other American Indian children of her generation, Oshanee was sent away from her home in Arlee to a boarding school. At the Villa Ursuline School in St. Ignatius, the nuns cut Oshanee's long hair, dressed her in a school uniform, and called her Agnes. Soon Oshanee and a handful of other homesick students ran away, walking home over the mountain pass to Arlee. Forced to return to the boarding school, Oshanee continued to run away. Finally the agent on the Flathead Reservation had her sent to a boarding school in DeSmet, Idaho, hoping the distance from home would keep her in school. Within a year, Oshanee returned home, where her brother recruited her to help pick sugar beets that summer. That fall, instead of returning to school, Oshanee got married. She was fourteen years old.
Oshanee's husband, Edward Stasso, was Kootenai and did not speak Salish. Oshanee did not yet speak Kootenai. Her husband communicated largely in sign language because he was hard of hearing, so she learned to sign. She also learned the laborious, traditional methods of hide tanning from Edward's mother and beading from his sisters. A year and a half into their marriage, Edward died from tuberculosis. Within a couple of years Oshanee married again, this time to Joe Mathias, another Kootenai, who encouraged her interest in tanning and leatherwork. Again, however, tragedy broke apart her family when Joe was killed in a construction accident at the Kerr Dam, leaving Oshanee to raise their young daughters.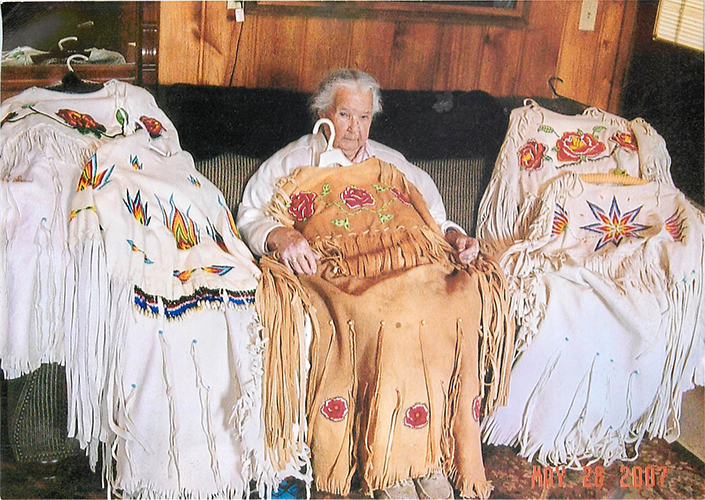 To support her children, Oshanee relied on her developing talents as a hide tanner and beadwork artisan to create moccasins, gloves, and beaded clothing she could sell to earn a living on the reservation, where jobs were scarce. Over time she became an expert at brain-tanning hides and produced soft, supple hides of superior quality, which she then made into regalia, clothing, cradleboards, and handbags decorated with beadwork. Her excellent workmanship made her products very popular among local residents, tourists, and collectors. She raised her family, which had grown to four more children after her marriage to Camille Kenmille, on the proceeds from her work, which she supplemented with seasonal income from picking apples in Washington state.
Tanning and beadwork offered Oshanee Kenmille a means for becoming self-reliant, and she worked hard to perfect these skills. As her products became increasingly popular, Kenmille recognized that she had valuable cultural knowledge to share with the world. For over twenty years, she taught hide tanning and beadwork at the tribal college in Pablo, an endeavor that brought her great happiness. Her students learned that it took hard work to perfect these skills and came to appreciate their cultural heritage. They also learned that a person could suffer great personal tragedies and still radiate a joyful, positive outlook on life.
Through her example, Kenmille demonstrated that challenges—in her case the lack of formal education, the loss of her parents and husbands, and single motherhood—did not have to become barriers that prevented a person from achieving happiness or meeting their responsibilities. When she could no longer tan hides, her granddaughter, Gigi Caye, began teaching at the college.
Oshanee Kenmille earned much-deserved recognition for her work and her cultural leadership, including a Montana Indian Educator of the Year award, a Governor's Award for Lifetime Achievement, and a National Heritage Fellowship from the National Endowment for the Arts. Celebrities, governors, foreign dignitaries, and presidents are among the recipients of her artistic work. She was the head woman dancer at the annual Arlee powwow, where other dancers and tribal members proudly continue to wear items she made. Her gifts to the world are not just physical and aesthetic; she also shared her joyful spirit. "Few people have eyes that literally sparkled like Oshanee's did," her friend Germaine White recalls, "and that sparkle went all the way to her heart and came from her heart." LKF
Sources
Devlin, Vince. "Elder takes her final journey: Agnes Oshanee Kenmille." The Missoulian. February 13, 2009. http://missoulian.com/news/local/obituaries/07sat/agnes-oshanee-cullooyah-kenmille/article_6f00cd41-bf7f-5e22-89d0-2f4ccfc5b160.html
Plummer, Maggie. Passing It On: Voices from the Flathead Indian Reservation. Pablo, Mont.: Salish Kootenai College Press, 2008.
Profile of National Heritage Fellowship recipient Agnes Oshanee Kenmille. National Endowment for the Arts. http://arts.gov/honors/heritage/fellows/agnes-oshanee-kenmille?id=2003_02&type=bio
Salish-Kootenai College. Honoring Native Women's Voices: A Collection of Stories. Pablo, Mont.: Salish-Kootenai College Press, 2006.
"Tribes honor the passing of Oshanee." Char-Kootsa News (obituary), February 19, 2009. http://www.charkoosta.com/2009/2009_02_19/Oshanee_passes_on.html