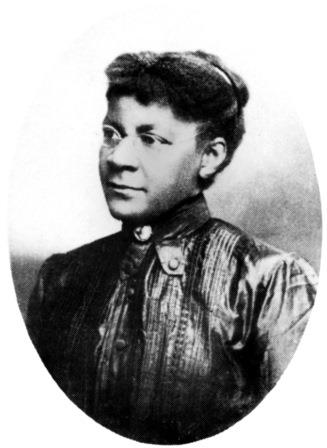 On April 10, 2012, Montana honored Sarah Bickford by inducting her into the Gallery of Outstanding Montanans in the Capitol Rotunda in Helena. A former slave who became one of Montana's most prominent businesswomen, Bickford richly deserved this honor. She was the first and only woman in Montana—and probably the nation's only female African American—to own a utility. Yet despite her public success, Sarah Bickford's life is difficult to piece together. Like most African Americans who came west, she carried the burden of slavery, making her past especially difficult to trace.
Sarah Gammon Bickford was born on Christmas Day in 1852, or 1855, or 1856 in North
Carolina or Tennessee. Her parents were slaves of John Blair, a wealthy Tennessee attorney and state senator. As was common, Sarah (nicknamed Sallie) and her family took the last name of their owner. At some point Sarah's parents were sold and she never saw them again.
After the Civil War, freed by the Emancipation Proclamation, Sarah went to Knoxville, Tennessee, to live with Nancy Gammon, who may have been her aunt. While in Knoxville, Sarah took the last name of Gammon. There she also met John Luttrell Murphy, a local attorney and newly appointed associate justice of the Territorial Supreme Court in Virginia City, Montana Territory. At the time, the judge was looking for someone to tend to his two foster children on the family's journey west. Sarah, then a teenager, exchanged her services as a nanny for her passage.
Murphy took the bench in 1871 but served only briefly before leaving Virginia City. However, Sarah was in Virginia City to stay. Initially, she worked as a chambermaid at the Madison House Hotel, and in 1872, married a miner, John Brown. The couple had three children, two boys and a girl, but the marriage was a difficult one. The boys died of diphtheria, and John Brown proved a miserable husband. Sarah suffered beatings, death threats, and desertion. In 1880, she engaged attorney Samuel Word to sue Brown for divorce on the grounds of abuse and abandonment. This was a courageous move for a woman in the nineteenth century, but in making her private trauma public and risking the stigma of divorce, she sought to protect her remaining child, seven-year-old Eva. The judge granted Sarah a divorce and awarded her sole custody of the girl.
Again a free woman, Sarah went to work in the French Canadian household of Adaline Laurin. Soon thereafter she opened a bakery, restaurant, and lodging house on Wallace Street, perhaps with Laurin's financial assistance. Her advertisements for "meals and Lunches at all hours" appeared frequently in the Madisonian in 1880 and 1881. Bickford's business endeavors demonstrate the value of traditional women's work in Montana Territory's primarily male mining camps.
In 1882, nine-year-old Eva died of pneumonia. This was not an unusual story at a time when one in every five children died before the age of five, but it was nonetheless heartbreaking to the mother. For Sarah it meant starting over. In 1883 she married Stephen Bickford, a white miner and farmer. The couple had three girls and a boy. Many years later, her daughters recalled that, when they were growing up, their mother told them poignant stories about her first family and sang to them the French songs that she and Eva had learned in the household of Adaline Laurin.
When Stephen died in 1890, the Bickfords owned two-thirds of the Virginia City Water Company. Left on her own, Sarah Bickford took a business management class by correspondence, purchased the remaining third of the company, and in 1902 became the sole owner of the utility. In another bold move, she purchased the infamous Hangman's Building and converted it to her office. Sarah Bickford not only managed the business, she personally visited every customer and learned their needs. She was also her own bill collector, keeping after her customers to pay their bills on time. While she earned the respect of the community, it was not always easy to dog her neighbors.
Late in 1917, Bickford raised water rates 10 percent. The rate increase incensed her customers, who had been paying the old rate for forty years. With Prohibition about to claim his livelihood, longtime saloonkeeper Frank McKeen protested, "Here the State of Montana goes dry, and Sallie Bickford boosts the price of water. It is getting to be a hard world in which to live." But business is business, fair is fair, and Bickford did what she had to do.
In fact, Sarah Bickford always did what she had to do. She stepped out of her accepted domestic role to become a top-notch businesswoman. Well respected by her community, she triumphed over tragedy, but she never forgot those she had lost. When she died in 1931, a portrait of Eva was at her bedside. The Madisonian expressed the community's sadness, declaring that Virginia City had lost one of its most devoted mothers and loyal pioneer citizens. EB
Sources
Baumler, Ellen. "Celebrating Sarah Bickford." 406 Woman (406): 72-73.
"Building Freedom in the American West: The Sarah Bickford Project."
Madison County History Association. PioneerTrails and Trials: 1863-1920. Virginia City: Madison County History Association, ca. 1976.
Peterson, Bill, and Orlan Svingen. "Finding Sarah Bickford." Ford Foundation and the National Trust for Historic Preservation, n.d.
"Sarah Bickford" (obituary). Madisonian, July 14, 1931.