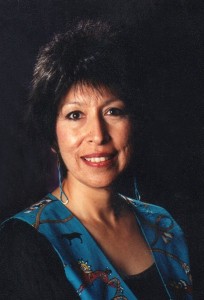 "We in the Native American community know that the warrior of old no longer exists. So we ask ourselves, 'What do we have left?' We have individuals who are culturally aware, who realize the value of getting a 'white man's education' and utilizing that to the benefit . . . of the community. They have the ability to turn this whole negative picture of cultural genocide around." Bonnie HeavyRunner spoke these words in praise of her sister, Iris HeavyRunner, but she could have been describing herself.
One of thirteen children, Bonnie HeavyRunner grew up in Browning on the Blackfeet Reservation, where she experienced the daily reality of poverty, relatives struggling with alcohol addiction, and the sudden loss of family members. At a young age she vowed to stay sober and remain true to her cultural values. Her personal integrity became the foundation of her determination to improve the lives of American Indian people by being an advocate for Native and women's issues while building cross-cultural bridges. As the director of the University of Montana's Native American Studies program, she worked tirelessly to bring about greater cultural awareness of American Indians while making the academic world more hospitable to Indian students.
HeavyRunner earned a bachelor's degree in social work from the University of Montana in 1983 and then a law degree in 1988. One of only a few women in the School of Law in the 1980s, HeavyRunner was also the only American Indian law student in her class. She went on to become a clerk, and then a judge, on the Blackfeet Tribal Court, but she did not forget the cultural isolation she had felt at the university. Many Native students dropped out of school because they experienced such a wide gap between themselves and the non-Indian culture of the university community at large. HeavyRunner wanted to change that.
In 1991, Bonnie HeavyRunner Craig, now married and raising a daughter and son, became the director of the fledgling Native American Studies program at the University of Montana. At the time, the program offered courses to supplement other degrees, but HeavyRunner dreamed of a Native American Studies Department that offered its own major. She also aspired to create a more welcoming and culturally understanding academic climate for Native students. Despite being diagnosed with ovarian cancer just one year into her new job, HeavyRunner put her full effort into making her goals a reality.
HeavyRunner mentored over three hundred American Indian students in her six years at UM, helping them navigate the world of academia, get scholarships, pay for childcare, and stick to their educational goals. She reached out to the university community to make the campus a more inclusive place, one that recognized and promoted cultural diversity. For her work, she earned numerous community service awards, including the Robert T. Pantzer Award for making UM a more humane, compassionate learning environment and the Joann Youngbear Community Service Award for improving the well-being of the Indian community.
In 1996, HeavyRunner triumphed when the university offered an undergraduate major in Native American Studies for the first time. HeavyRunner strongly believed that education could build bridges between people and could strengthen communities. Having spent many years advocating for American Indian issues and cultural diversity, HeavyRunner knew that making Native American Studies its own discipline would generate greater awareness of American Indian cultures, histories, and current events among students and faculty. She hoped this better understanding would also reduce anti-Indian prejudices.
In addition to being the founding director of, and driving force behind, UM's Native American Studies Department, HeavyRunner served on the university's Diversity Council, the board of the National Indian Justice Center, and Montana's advisory committee to the U.S. Civil Rights Commission. She founded the Kyi-yo Native Academic Conference that brought together indigenous scholars during UM's annual Kyi-yo powwow and continued to advocate for Indian people's health and well-being even as her own health was failing.
HeavyRunner never let her struggle with ovarian cancer deter her from her path. While undergoing chemotherapy, she sought help from Native healers to maintain her spiritual health. She openly discussed her condition, allowing her illness and the treatments she chose to become another avenue of advocacy for improved care for American Indians and, indeed, for all cancer victims.
HeavyRunner's dual approach to her health crisis inspired her to speak to Humanities classes, in public forums, and to the cancer treatment community about the necessity of holistic care and the value of the indigenous medicine that sustained her spiritually even as her body weakened. She calmly addressed the fear of dying and of death itself, emphasizing the importance of providing culturally appropriate spiritual treatment to terminally ill people.
HeavyRunner died in 1997 at the age of forty-six; however, her dreams continue to become realities. In 2010, the University of Montana opened its new Native American Center on campus, fulfilling HeavyRunner's goal to make the university a "home" to American Indian students and a place where cross-cultural understanding can flourish. Immediately inside the architecturally beautiful building is the "Bonnie Heavy Runner Gathering Place"—a large, open, sunny space where people can celebrate the continuity of American Indian cultures and begin making their own dreams of cross-cultural acceptance, justice, and well-being into realities. LKF
Sources
Craig, Bonnie. "Native Americans and Cancer." Videotaped discussion on cancer, death and spirituality.
"Craig Loses Fight With Cancer, Dies at 46." Char-Koosta News, November 28, 1997, 1.
Desmond, Brenda. "Bonnie Heavy Runner Craig." Montana Law Review, 59 (1998). Missoula: University of Montana Law School.
Florio, Gwen. "Bonnie's Building." Missoula Magazine 1 (Summer/Fall 2010), 31-33.
"Founder of UM Native American Studies Dies." University of Montana Press Release.
Jahrig, Gary. "Bonnie Heavy Runner Craig." The Missoulian.
Miller, Kay. "Bridging the Cultural Divide." Star-Tribune, METRO edition, July 12, 1993, 1E.
"Native American Studies Leader Lauded for Contributions to UM." Char-Koosta News, March 7, 1997, 1.