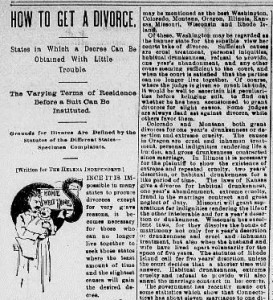 In the late nineteenth and early twentieth centuries, a series of economic and social changes culminated in a nationwide increase both in divorce rates and in the liberalization of divorce laws. This pattern played out in Montana on an even larger scale. Based on her extensive study of Montana divorces in the late nineteenth century, historian Paula Petrik found that frontier conditions in mining cities like Helena and Butte created a climate in which divorces were common. Petrik also argued that, over the course of the late nineteenth century, women seeking to divorce ushered in changes to Montana law that made divorces easier to obtain and on terms more favorable to women. In doing so, they confirmed the ideal of "companionate marriage"—or marriage based on mutual affection and reciprocal duties. This ideal would come to define the institution in the early twentieth century.
For Montanans facing the frontier conditions of social upheaval, an unbalanced ratio of men to women, and rising and falling fortunes, divorces were common. Indeed, in 1868, Helenan Elizabeth Chester Fisk remarked, "Divorces are common here, and it is a common comment that a man in the mountains cannot keep his wife." Fisk's observation was based in fact, as Lewis and Clark County had an unusually high divorce rate in that era. In 1867, the number of divorces actually exceeded the number of marriages.
Montana's sex imbalance was one important factor. Due to the surplus of men, women could use divorce to better their economic position. During her divorce proceedings, for example, Silver Bow County resident Lucinda Forrest freely admitted that she left her husband for Abraham Lory because "she could get more money out of Lory."
There were also darker reasons for divorce. Women most frequently charged their husbands with desertion, adultery, cruelty, or drunkenness. Montana law also allowed for divorce on the grounds of impotency, bigamy, or conviction of a felony. Montana's relatively liberal divorce laws (and correspondingly high number of divorces) was in line with other western states and territories. However, unlike many western states, Montana did not list neglect as a "reasonable and acceptable cause for divorce." Husbands could not abandon their wives or cheat on them, but they did not have a legal obligation to provide for them financially.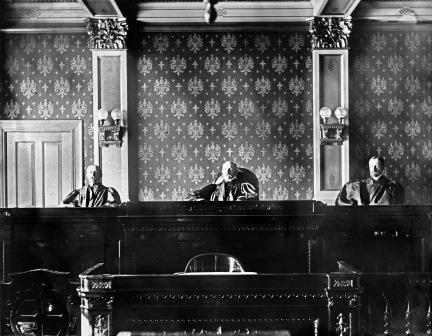 Of the causes for divorce, the issue of cruelty was most complicated. The courts required evidence of extreme cruelty, or "physical, life-threatening violence over a period of time." A husband beating his wife once was not enough. A woman seeking divorce had to establish that there had been multiple episodes of violence. Lizette Davis of Helena, for example, detailed how her husband locked her out of the house in winter, threw boiling water on her, and beat her head against a nail. During one incident, she fell and suffered a miscarriage. Asked why she endured her husband's abuse, Davis responded, "The men had been talking about putting him in jail for mistreating me, and he was crying. I knew he was my man. I got ashamed for him and thought it was best to make it up."
Although not embedded in statute, many judges used a "three beating rule" to determine whether extreme cruelty applied. Even after 1885, when the Montana Supreme Court ruled, in Albert v. Albert,  that one beating was sufficient to establish cruelty, judges in the working-class town of Butte continued to use a conservative standard of multiple incidents, suggesting that grounds for divorce differed depending on a woman's social status.
Even as Butte judges excused abusive husbands—particularly, according to one judge, if the wife provided provocation—the middle- and upper-class women of Helena were arguing for a new definition of cruelty that did not hinge on physical violence. Instead, these women sought divorce on the grounds of mental cruelty, which could encompass anything from tyrannical behavior to verbal abuse and violent behavior. Mary Monroe even alleged mental abuse on the basis of the humiliation she endured when her husband publicly escorted known prostitutes around Helena.
In suing for divorce on the grounds of mental cruelty, these women inadvertently furthered a version of marriage based on mutual respect and obligation. The courts responded, and the Montana legislature codified mental cruelty as grounds for divorce in 1907. Ironically, in the same bill they also required that cruelty—physical or mental—had to exist for a year before a suit could be filed, effectively offering a one-year grace period for domestic violence.
While Montanans did not seem overwhelmingly concerned with the state's high divorce rate, which in some places was on par with modern levels, turn-of-the-century Easterners were gripped in what historian William O'Neill has termed a "national crisis" in divorce. Concerned about the growing number of divorces, conservative clergy and some Progressives tried to reform divorce laws to prevent what they perceived to be an attack on the family, and by extension, civilization.
For a time, public opinion was on their side, but ultimately this crusade would fail. Sociologists, feminists, and even some liberal theologians increasingly emphasized mutual affection, female sexual pleasure, and women's freedom as vital elements of a marriage. Without those elements, they argued, a married couple should be able to part.
Montana, then, was ahead of its time. As an early adopter of companionate marriage in law, the divorcees, jurists, and lawmakers anticipated new gender ideals and pioneered greater freedoms for married women in the state. AH
Interested in learning more? Read Paula Petrik's article, "Not a Love Story: Bordeaux v. Bordeaux," published in Montana The Magazine of Western History 41, no. 2 (Spring 1991), 32-46. You can find links to the full text of all Montana The Magazine of Western History articles relating to women's history here.
Birth control also played a role in the rise of companionate marriage. Learn more in "Family Planning and Companionate Marriage in Early Twentieth Century Montana."
Sources
May, Elaine Tyler. Great Expectations: Marriage and Divorce in Post-Victorian America. Chicago: University of Chicago Press, 1980.
O'Neill, William. "Divorce in the Progressive Era." American Quarterly 17, no. 2, part 1 (Summer 1965), 203-17.
Petrik, Paula. "If She Be Content: The Development of Montana Divorce Law, 1865-1907." Western Historical Quarterly 18, no. 3 (July 1987), 261-91.
______________. No Step Backwards: Women and Family on the Rocky Mountain Mining Frontier, Helena, Montana, 1865-1900. Helena: Montana Historical Society Press, 1987.
______________. "Not a Love Story: Bordeaux v. Bordeaux." Montana The Magazine of Western History, 41, no. 2 (Spring 1991), 32-46.